For other uses, see Aftermath.
"..."
— Level description
"Something has happened... What appears to be an explosion of epic proportions... details remain sketchy and unconfirmed...damage totaling... to set off what appears to have been a nuclear explosion in his own country... stretching across a barren wasteland..."
— News broadcasts heard in Aftermath's opening cutscene.

"Aftermath" is the eleventh level of Call of Duty 4: Modern Warfare and Call of Duty: Modern Warfare Remastered. It sees the player controlling the American protagonist Sgt. Paul Jackson crawling around the crash site in the aftermath of a nuclear explosion. Jackson eventually collapses and dies from his wounds. This mission holds no known objectives with significance as it only chronicles Sgt. Jackson's death and the end of Act I.
Characters
Plot
Sergeant Paul Jackson awakens from the crash after Khaled Al-Asad's nuclear warhead was detonated from the previous mission, "Shock and Awe". Mortally wounded, he crawls out and around the downed CH-46 Sea Knight into the wasteland left by the blast, while buildings can be seen collapsing. His squad members, such as Vasquez and Pelayo, are seen either dying or their dead bodies lying around the area. After moving away from the helicopter, he collapses and succumbs to his wounds. The screen fades to white slowly, as the satellite lists his status as "Killed in Action".
American Death Toll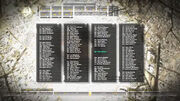 The following is a list of known U.S. Marines killed by the nuclear device detonated in the campaign level "Shock and Awe" in Call of Duty 4: Modern Warfare. Gen. Shepherd later claimed that 30,000 personnel were lost in the event, but most of their identities remain unknown.
Notable Deaths
Others
List:
Pvt. Ruls Arbuckle
Pvt. Danny Arimuckle
Pvt. Thomas Arthur
Pvt. Bradley Bewers
Lt. Jose Biaz
Pvt. Bimera
SSgt. Ebgert Blake
Sgt. Yugen Blake
Pvt. Bradley Bowers
Pvt. Siobhan Bowers
Pvt. Henry Buckle
Pvt. Henry Buckley
Lt. Kenny Bukowski
Cpt. Pas Cabrera
Cpt. Pat Cabrera
Sgt. Miles Cattan
Sgt. Miles Christensen
Cpt. Jeff Colt
Pvt. Stan Cooper
Cpt. Alex Cowen
Pvt. Jimmy Cox
Cpl. Gary Culan
Pvt. Marti Da Siva
Pvt. Don Davelon
Pvt. Peter Daymen
Cpt. Steve Deogen
Pvt. Don Devalos
Pvt. Chuck DiMarco
Pvt. Chuck DiMaron
Pvt. Marti Disantes
Cpt. Ross Dougen
Cpl. Jezoh Dutowski
Pvt. Les Elamdo
Pvt. John Fieher
Pvt. John Fisher
Pvt. Junior Ghermeyer
Pvt. Junior Gloermeger
Cpl. Felix Goldman
Pvt. Victor Gonzales
Pvt. Dalton Green
Pvt. Elmo Grey
Sgt. Sarah Hanon
Cpl. Carl Henry
Sgt. Raphael Higgins
Pvt. Earl Hughes
M/Sgt. Paul Hunt
M/Sgt. Paul Huksman
Cpl. Jared Hutowski
M/Sgt. Paul Hwin
Pvt. Pete Ivey
Cpl. Simon Jacobs
Col. Tim Jerram
Col. Scott Jerry
Cpt. Dick Johnson
Pvt. Phil Karini
Pvt. Phil Karl
Pvt. Phil Karlsson
Sgt. Jay King
Sgt. Jay King
Pvt. Gavin Koopman
Cpl. Dusty Lacock
Pvt. Eric Lavin
Col. Al Leigh
Col. Al Leitzh
Cpl. Dusty Lelouch
Cpl. James Leones
Pvt. Eric Levin
Cpl. Dusty Lich
Pvt. Jose Lopez
Pvt. Franklin Madden
Pvt. Franklin Maddon
Cpl. Massen
Pvt. Hal Maitland
Pvt. Derick McFisher
Pvt. Jon Mcrris
Cpl. Bert Melvins
Pvt. Caries Mendra
Pvt. Hal Michels
Pvt. Zach Miles
Pvt. Zach Monroe
Pvt. Zach Monroe
Cpt. Rotam Nahiell
Pvt. Leo Neslands
Pvt. Aaron Oberholser
Pvt. Junior Obermeyer
Pvt. Tom Perry
Pvt. Jerry Pettersan
Pvt. Jerry Petterson
Cpl. Chari Quigley
Pvt. Chari Quigley
Cpl. Parker Raimondo
Pvt. Ramzy
Pvt. Pete Robsen
Pvt. Emily Rodriguez
Pvt. Randy Rodriguez
Pvt. Ronals Ruskin
Lt. Jose Sanchez
Pvt. Dean Schwartszi
Pvt. Perry Shole
Cpl. Nathan Simonet
Pvt. Lance Stenton
Pvt. Eil Stevens
Pvt. Eil Stevens
Cpt. Johnny Stores
Cpt. Johnny Storm
Sgt. Andrew Thompson
Sgt. Nina Waynes
LCpl. Spencer Weekly
LCpl. Spencer Weekly
Lt. Anthony Weihward
PFC. Mike Weir
PFC. Mike Weir
Cpt. Steve White
Cpt. Steve White
Pvt. Denis Wilard
Pvt. Dean Willard
Lt. Anthony Williams
Pvt. Vanessa Wimbern
Pvt. Vanessa Wimberno
Pvt. Vanessa Wimborne
Lt. Anthony Woodward
Pvt. Yang
Cpl. Mike Ziger
Cpl. Mace Zwinder
Videos
Gallery
Transcript
Main article: Aftermath (Call of Duty 4)/Transcript
Trivia
The consequences of the nuclear explosion as depicted in this level had prompted General Shepherd to initiate the Russo-American War to test the American military's true strength and to build his country's morale.
In the opening cutscene, a list of Marines who were in the city when the bomb goes off is listed, and Paul Jackson's name is highlighted in blue. However, eleven names above the blue name, Sgt. Paul Jackson is written again. There are also numerous other names repeated throughout the list.
When the player walks while standing, they lean right with every step likely from a leg injury. Jumping will cause the player to fall.
It is possible to view this level in color as opposed to a red tint by enabling Super Contrast in the cheats menu.
If the player survives long enough and goes in the school yard, the clamor of playing children can be heard, along with one calling out for his dad, and eventually one calling out for help.
Members of Jackson's team are scattered dead throughout the mission. Captain Pelayo is dead on the ground next to the place where the player jumps out. and Lt. Vasquez to the left of the helicopter, in an inaccessible area.
During the level, a radio can be heard from the cockpit of the crashed helicopter, with the person on the other end talking about treatment facilities and massive casualties.
If the player exits the helicopter and looks behind, the player will see what appears to be a signature. It is the Infinity Ward insignia.
In the opening cutscene, if the player looks at the map, they will see that the nuke was detonated in southern Iraq.
There is a teddy bear lying on the ground next to the car.
Originally there were three objectives:
"Get radiation equipment" (obj_origin = getent( "radiac_equipment", "targetname" );)
"Locate commanding officer" (objective_add( 1, "active", &"AFTERMATH_OBJ_OFFICER", obj_origin.origin );)
and "Find secure overhead cover." (obj_origin = getent( "overhead_cover", "targetname" );)

These indicate that Jackson originally survived the explosion, but in the final version, he succumbs to death instead.

In Call of Duty: Modern Warfare 3, it is revealed that Yuri and Makarov watched the explosion from a distance.
In this mission, Jackson makes a unique gasp two times, which is not heard anywhere else in the game.
One of the car's license plates says "R3T4RD0".
The nuke that is visible in this mission is actually a 2D model, not a 3D one as originally imagined.