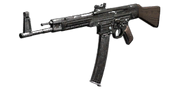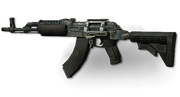 An Assault Rifle is a type of weapon in the Call of Duty series. To date, assault rifles have been featured in every Call of Duty game made. They are essentially a bridge between a Rifle and a Submachine Gun, sporting a similar range to a rifle, and a fire rate and handling closer to a Submachine Gun. In many World War II Call of Duty games since the first one, the STG-44 (or MP44) is the first and only assault rifle featured, whereas the other titles offer a variety of assault rifles to use, including the STG-44 in the case of Call of Duty 4: Modern Warfare. Due to the balance between rifles and submachine guns, they are often seen as a jack-of-all-trades weapon, featuring an overall balance of range, rate of fire, accuracy, and capacity. However, individual assault rifles are extremely varied in terms of statistics from others. One assault rifle can have a extremely long range but low damage, whereas another assault rifle will have a high damage output but mediocre accuracy.
List of Assault Rifles in the Call of Duty seriesEdit
Note: MP44 and STG-44 are interchangeable names for the same weapon.
Note: All Semi-automatic rifles, Automatic rifles and assault rifles belong to the Rifle class in-game.
List of Cut Assault Rifles
Edit
Call of Duty: Modern Warfare 2Edit
Call of Duty: Modern Warfare 3Edit
Call of Duty: Black Ops IIEdit
Call of Duty OnlineEdit
Call of Duty: GhostsEdit
Call of Duty: Advanced WarfareEdit
Call of Duty: Black Ops IIIEdit
Community content is available under
CC-BY-SA
unless otherwise noted.