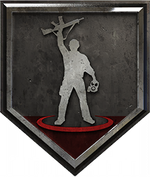 Battle Royale is a game mode featured in several games of the Call of Duty franchise. The objective of Battle Royale is for a player (or a team) to survive and finish a match as the sole survivor as the size of the playable area shrink.
A Battle Royale mode was released on Call of Duty: Online on December 2017. The mode is heavily inspired by The Hunger Games movie franchise with leaderboards and screens showing recent defeated players as well as an announcer. The mode also features a day and night cycle. Unlike other Battle Royale mode, this mode only supports up to 18 players who can choose where they want to spawn into the map.
Blackout is the Battle Royale mode featured in Call of Duty: Black Ops 4. The mode features fan-favorite maps and characters from the Black Ops series as well as vehicles. Two maps were released for Blackout, the Core Map and the Alcatraz map. While the mode supports up to 100 players on the Core Map, it only supports 40 players on the Alcatraz map.
The Battle Royale mode is also featured in Call of Duty: Mobile. The mode works in a similar way as Blackout. The first map, called Isolated, featuring various places from the Modern Warfare and Black Ops series, in addition to new exclusive locations. Isolated have different vehicles available around the map and supports up to 100 players.
With the release of Season 11 Anniversary update, on October 15, 2020, a second map called Alcatraz was added. Unlike Isolated, Alcatraz only supports 40 players with no vehicles. The players are also able to respawn up to five times.
Warzone is Battle Royale mode featured in Call of Duty: Warzone, Call of Duty: Modern Warfare, and Call of Duty: Black Ops Cold War. Unlike the previous Battle Royale modes, Warzone supports up to 200 players on its first map called Verdansk. The mode features different vehicles available and a respawn system known as the Gulag.
With the release of Season One for Black Ops Cold War, a new map called Rebirth Island was added in Warzone. The map features vehicles and its own Gulag system. Unlike Verdansk, the map only supports up to 40 players.
Community content is available under
CC-BY-SA
unless otherwise noted.