For the basic training of the same name, see Blitzkrieg (Basic Training).
"The enemy is knocking on the door, so Command has issued new Orders: gather your squad, hit the frontlines, and earn some extra rewards for your effort. Captain Butcher is back to help, and he has six brand new weapons to use in the firefights of Ground War, a new, limited-time 9-on-9 game mode. The fighting has even reached HQ – starting April 17, the HQ is a free permanent map for Prop Hunt, Gun Game, and Free For All game modes. The Blitzkrieg Event is available until Tuesday, May 8."
— Message of the Day for Blitzkreig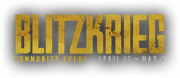 Blitzkrieg was an event in Call of Duty: WWII, from April 17th, 2018 to May 8th, 2018[1]. The new event featured six new weapons along with new camouflages and charms, a new community challenge, headquarters as a multiplayer map and the return of Captain Butcher.
Additions
The Ground War game mode was added to the game with the event, with two featured playlists: "Ground War Mosh Pit" and "Ground War War", where every match can have maximum of 18 players.
HQ Multiplayer Map

The Headquarters now acts as a multiplayer map for Prop Hunt and a returning mode Gun Game.
Six new weapons along with the Ruby, Turquoise camouflages and weapon charms were added as part of supply drops.
Community Challenge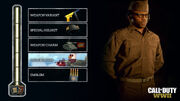 A New Community Challenge started on April 20th and ended on May 8th, 2018. The challenge was featured across all platforms and special rewards could be unlocked for all players by completing 75 million Contracts and Orders.
Tier 1: Emblem "Clip"
Tier 2: Calling Card "Eagle Gunner"
Tier 3: Weapon Charm "Bang!"
Tier 4: Special Helmet "M1 Ammo Reserves"
Tier 5: Grease Gun "Rosie II" variant

The Quartermaster system was added to the Nazi Zombies mode with the event, with Major Hank Rideau being the Quartermaster, providing Daily, Weekly Orders and also Contracts to the players. Zombie Supply Drops and consumables can be earned by completing these Orders and Contracts.
Aesthetics
References