For the fourth main game in the series, see Call of Duty 4: Modern Warfare.
"Prepare to go dark, Modern Warfare® is back! The stakes have never been higher as players take on the role of lethal Tier One operators in a heart-racing saga that will affect the global balance of power. Developed by the studio that started it all, Infinity Ward delivers an epic reimagining of the iconic Modern Warfare series from the ground up."
— Official description

Call of Duty: Modern Warfare is a first-person shooter video game developed by Infinity Ward for the Xbox One, PlayStation 4 and Windows. It is a reboot of the original Modern Warfare trilogy. Part of the Modern Warfare series, Call of Duty: Modern Warfare is the sixteenth game in the Call of Duty franchise. Announced on May 30th, 2019, the game was released on October 25th, 2019.
After 10 months, the game sold over 30 million copies[2] and became the best-selling game of 2020[3]. Modern Warfare also became the best-selling game of the Call of Duty franchise since its debut in 2003.[4]
An upcoming sequel, Call of Duty: Modern Warfare II, was revealed on April 28th, 2022 and is set to be released on October 28th, 2022.
Development
Upon returning to the Modern Warfare series, Infinity Ward set out to create a game ripped straight from the real world terrorism that exists in modern-day 2019. A week before the game's reveal, studio narrative director Taylor Kurosaki and single-player director Jacob Minkoff explained to journalists this new game as a more mature, authentic and relevant Call of Duty game that's not a superhero caricature, but instead, a down-to-earth representation of the realities of being a soldier. "It's taking scenarios that are "ripped from the headlines."[5] Among the stated goals for the game's campaign: "Create an emotional connection through the realities of war," and "Push the boundaries of the medium."[6]
In an interview with GameSpot, Kurosaki was asked what re-imagining the story of Call of Duty: Modern Warfare to be relevant in the world today means to him and what are some of the key inspirations. Kurosaki responded "Sure, well, the original game was ripped from the headlines. But it was ripped from the headlines of 2007. And now, here we are 12 years later, and the world has further changed. I would say that compared to 2007, Operation Iraqi Freedom or whatever it was, that was a kind of traditional warfare. Those were guys in tanks, fighting other guys in tanks and Jeeps, and this side wore this uniform and this other side wore a different uniform, and this side flew this flag, and the other side flew the other flag.
Today, modern warfare means that the war isn't just over there. That the war is everywhere. It's in our own backyards. It's in places that can suddenly become a battlefield at a moment's notice. It's about enemies who don't wear uniforms. It's about civilian collateral damage kind of being, unfortunately, part of the equation. When we set out to make this game, we asked ourselves a very literal question. We just said, 'What do the words modern warfare mean in 2019?' Not what does the game name mean, but those words as just words: modern warfare. And for us, it meant that a busy city center could be the site of a terrorist attack. That a residential compound could be the safe house of a terror cell, that commandos have to go into and eliminate the cell. It means that it's not the only sort of John Wayne-style American G.I.s, but it's also local militias and freedom fighters. Where families are hit by airstrikes and people have to pick up the pieces by picking up arms and fighting for their own independence. That, to us, was the definition of modern warfare and if we didn't have all of those elements in this game, we wouldn't be doing justice to that name." [7]
Campaign
Call of Duty: Modern Warfare is a reboot of the Modern Warfare subseries that takes characters and themes from the original series and presents them in a modern light.[8] Captain Price returns in this game's campaign.
Modern Warfare is said to deliver an emotionally charged and intense campaign that shines a light on the changing nature of modern war.[9][10] Fight alongside a diverse cast of international special forces, freedom fighters and Arab soldiers[11] Working within the grey area of their rules of engagement in a number of heart-pounding covert operations set throughout iconic European cities and into the volatile expanses of the Middle East.
Locations include London, where a terrorist attack occurs at the start of the game, and the fictional country of Urzikstan. The plot is linear. Multiple characters are playable, each with a different perspective on the conflicts at hand.[12]
The plot is designed with a lot of references to the original trilogy, indicating that the action happened in a similar alternative universe. At the end of the campaign, Price formed a new Task Force 141 with many of the original members. It was revealed that Price and MacMillan in this universe also attempted an assassination on Imran Zakhaev in Pripyat and that Kamarov again owed Price a favor for Beirut. Many in-jokes were preserved as well.[13]
Missions
Locations
Characters
Factions
Factions in Call of Duty: Modern Warfare
Playable
Friendly
Hostile
Weapons
Vehicles
Achievements & Trophies
Multiplayer
"The ultimate online playground."
— Description of Multiplayer.

Modern Warfare's multiplayer mode features signature Call of Duty fast-paced and grounded combat while also introduces brand new game types and experiences from 2v2 Gunfight matches to 100+ players in Ground War. Ditching class-based combat from previous titles, the game aims to accommodate all play styles by providing more customization options to the players, featuring deep weapon augmentation in the Gunsmith and replacing Specialists with Operators. Modern Warfare is also the first game in the franchise to feature crossplay across consoles and PC.
On September 17th, 2019, Activision revealed that Post-launch gameplay content, including new multiplayer maps, new multiplayer modes as well as new Special Ops missions will be released simultaneously across all platforms.[14]
Gunsmith
Main article: Gunsmith
"Tune your arsenal to your playstyle at the Gunsmith, which houses the most weapon choices ever in a Call of Duty title."
— Description of the Gunsmith

The Gunsmith is a feature in Create-A-Class introduced to Modern Warfare. It allows players to augment any weapon in a loadout with various customization options, including up to 60 attachments to pick for each weapon.
Gunfight
Main article: Gunfight
"Small team, multi-round cage matches. First team to reach the round win limit wins."
— Description of Gunfight.

Gunfight is a new game mode introduced to Modern Warfare. Similar to the Face-Off mode from Modern Warfare 3, Gunfight puts players into a 2v2 match on small maps specifically designed for the mode. Each player is given the same loadout every 2 rounds with perks and killstreaks disabled. The first team to win 6 rounds wins the match.
Ground War
Maps
Game Modes
Perks and Killstreaks
2v2 Alpha
The 2v2 Alpha featuring Gunfight, exclusive to the Playstation 4 was announced during Gamescom Opening Live on August 19th, 2019.[15] It began on Friday, August 23rd with an early release a day prior. The Alpha is available for free to all PS4 users; Playstation Plus membership is not required.
Open Beta
The Playstation 4 Exclusive Open Beta was scheduled from September 14th to 16th. Players who had pre-ordered the game could gain early access to the Beta 2 days prior to the Open Beta on September 12th.
The Open Beta for all platforms featuring cross-play functionality went from September 21st to 23rd. Xbox One and PC players who had pre-ordered the game gained early access to the Beta on September 19th while all PS4 players had access to the Beta.
Battle Pass
On October 17, 2019 [16] it was announced that Call of Duty: Modern Warfare would do away with the standard micro transactional systems that were added into prior games and would rather feature a two-state Battle Pass system similar to the prior "Operations" in prior games but, however feature a Premium Stream and a Free Stream of content. Within this new system, it is entirely possible to earn CODPoints through standard gameplay along with cosmetic items that do not affect gameplay.
Along with this, Any future weaponry added in will be entirely earned via gameplay and the "In-Game store" will only feature cosmetic items.
Special Ops
Main article: Special Ops
"Squad-up and play cooperatively in a collection of elite operations accessible to all skill levels."
— Official description.

The co-op mode Special Ops returns from the original Modern Warfare series as an extension of Modern Warfare's single-player campaign, where players join in the fight to stop and sever a global terror organization.
Survival Mode
Main article: Survival Mode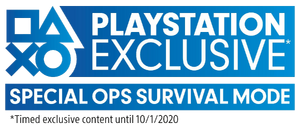 Survival mode from Modern Warfare 3 also returns as an additional mode of Spec Ops with 3 maps available at launch. The mode is only available on PlayStation 4 until October 1, 2020. [17] [18] Locking the survival mode of Special Ops behind a long exclusivity period sparked outrage among the community, with many players canceling their pre-orders. [19]
Seasons

Season One
December 3th, 2019 - February 10th, 2020


Season Two
February 11th, 2020 - April 7th, 2020


Season Three
April 8th, 2020 - June 10th, 2020


Season Four
June 11th, 2020 - August 4th, 2020


Season Five
August 5th, 2020 - September 28th, 2020


Season Six
September 29th, 2020 - December 8th, 2020
Editions
Standard Edition
Call of Duty: Modern Warfare game
Playable Captain Price Blackout Character in Black Ops 4
Custom In-Game Tactical Knife (Digital pre-order only)
Prestige Token in Black Ops 4 (Digital pre-order only)
XRK Weapons Pack (Digital pre-order only)
Operator Edition
Call of Duty: Modern Warfare game
All Ghillied Up Operator Pack
Crew Expendable Operator Pack
War Pig Operator Pack
Playable Captain Price Blackout Character in Black Ops 4
Custom In-Game Tactical Knife
Prestige Token in Black Ops 4
XRK Weapons Pack
Operator Enhanced Edition
Call of Duty: Modern Warfare game
3000 CODPoints
All Ghillied Up Operator Pack
Crew Expendable Operator Pack
War Pig Operator Pack
Playable Captain Price Blackout Character in Black Ops 4
Custom In-Game Tactical Knife
Prestige Token in Black Ops 4
XRK Weapons Pack
Precision Edition
Call of Duty: Modern Warfare game
Steelbook
KontrolFreek Modern Warfare branded Performance Thumbsticks
KontrolFreek Modern Warfare branded Controller Skin
All Ghillied Up Operator Pack
Crew Expendable Operator Pack
War Pig Operator Pack
Playable Captain Price Blackout Character in Black Ops 4
Custom In-Game Tactical Knife
Dark Edition
Call of Duty: Modern Warfare game
Steelbook
Night Vision Goggles
Display Stand for Night Vision Goggles
All Ghillied Up Operator Pack
Crew Expendable Operator Pack
War Pig Operator Pack
Custom In-Game Tactical Knife
Call of Duty Endowment Animated Calling Card (included at participating retailers only)
Gallery
Promotional Images
Box Art
Standard Edition
Operator Edition
Operator Enhanced Edition
Precision Edition
Dark Edition
Campaign
Multiplayer
Special Ops
Videos
References