For the faction in Call of Duty 4: Modern Warfare, see 1st Force Recon.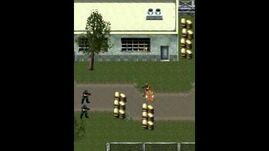 Call of Duty: Modern Warfare 2: Force Recon is a mobile game that can be downloaded for Verizon Wireless members. It is available for $3.99/month or $7.99 for unlimited use.
Overview
North America War Theater — Help lead the U.S. Marines to victory against a new terrorist group that threatens to unleash a full-scale war in Mexico
Mission Variety — Engage in a mix of exhilarating military objectives including area defense, stealth, hostage rescue, and escort duty
Modern Weapons — Cutting edge weaponry and vehicles create an authentic conflict to play through
New Vehicles — Jump into a helicopter to unleash devastating damage on terrorist strongholds
Sniping — Steady your aim through a scope to eliminate your enemy targets
The initial release was titled Modern Warfare 2 in the mobile store, but the title screen was still showing the Call of Duty 4: Modern Warfare logo. This was later changed.
Note that the T-Mobile Version does not feature any of these game modes.
Weapons
External links
Gallery