"You always aim for the officer first!"

"Dead in Her Sights" is the third campaign mission in Call of Duty: Finest Hour. The player controls Tanya Pavelovna.
Characters
Edit
All it takes is the will of a single man.
Please improve this section by: Plot required without walkthrough.
The level begins in a typical bombed out building in Stalingrad. Tanya must snipe a group of German soldiers in the street below, so as to lure out a Panzer. The three escort soldiers must be sniped quickly so the Russian sapper can place a land mine in the path of the tank. After this is accomplished, Private Kierlenko will arrive and inform Tanya about the tractor factory. The player will then run across a street full of Germans, and then into the sewers. The rest of the level is a maze of sewer tunnels, ending with two German machine guns near the exit. Go through the hole in the wall past the machine guns, and the level will end.
Weapon Loadout
Edit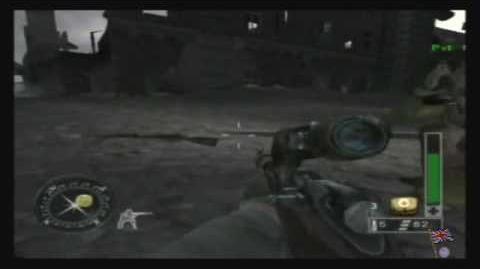 Transcript
Edit
Main article: Dead In Her Sights/Transcript
Community content is available under
CC-BY-SA
unless otherwise noted.