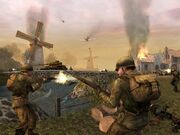 Fox Company (belonging to 2nd Battalion of the 16th Infantry Regiment[1]) is an American Rifle Company attached to the 1st Infantry Division. In North Africa, and Sicily, Fox Company consisted of 198 men and officers[citation needed].
In Call of Duty 2: Big Red One the player's character, Roland Roger, is assigned to Glenn Hawkins's squad. Fox Company fought on all three World War II campaigns fought by the U.S. Army.
Notable soldiers
This is a list of members of Fox Company that play some sort of role in the game at any point.
Enlisted
Officers
References