Line 12:
Line 12:
 

*Several doors on the warehouses can be opened/closed by finding and pressing buttons.

 

*Several doors on the warehouses can be opened/closed by finding and pressing buttons.

 

*There is a locked gate; attacking it will open it permanently. At the other side of its underground tunnel is an interactive door.

 

*There is a locked gate; attacking it will open it permanently. At the other side of its underground tunnel is an interactive door.

−

*A half ladder on the side of a warehouse. A bullet will cause the rest of it to fall, allowing players to access the very top of the inside of the building.

+

*A half ladder on the side of a warehouse. A bullet will cause the rest of it to fall, allowing players to access the very top of the inside of the building

−

*Because of its many tall warehouses, it holds lots of sniping advantages

 
 
 
 

==Trivia==

 

==Trivia==
---
Revision as of 04:10, 24 November 2013

Freight[1] is a multiplayer map in Call of Duty: Ghosts. It takes place in a factory transport depot.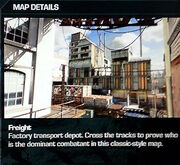 Dynamics
Several doors on the warehouses can be opened/closed by finding and pressing buttons.
There is a locked gate; attacking it will open it permanently. At the other side of its underground tunnel is an interactive door.
A half ladder on the side of a warehouse. A bullet will cause the rest of it to fall, allowing players to access the very top of the inside of the building
Trivia
Inside a crate only accessible in Spectator mode, a teddy bear can be seen. As well as a STOP sign next to a hammer and a clock, referencing the iconic line, "Stop. Hammer time!", in MC Hammer's 1990's song U Can't Touch This.
Reference
Community content is available under
CC-BY-SA
unless otherwise noted.