— The Wehrmacht's Victory Theme in Call of Duty: United Offensive
The German Armed Forces (or the Wehrmacht and Imperial German Army) is the most prevalent of the antagonist forces in the Call of Duty series, and are the main antagonists in Call of Duty, Call of Duty: United Offensive, Call of Duty 2, Call of Duty 2: Big Red One, Call of Duty 3,Call of Duty: WWII and Call of Duty: Vanguard. They also appear in Call of Duty: World at War, Call of Duty: Black Ops, Call of Duty: Modern Warfare 3, Call of Duty: Black Ops II and Call of Duty: Black Ops III.
In the campaign of the Call of Duty series the German soldiers' fighting ability differ by the difficulty level chosen. Individual German soldiers do not have much strength or stamina in campaign mode so the player character can kill them easily. In Call of Duty 3 a melee grappling mode is enabled at certain points, in which the character must press a certain sequence of buttons in order to fight off an enemy soldier.
They wear different uniforms throughout each campaign, each suited to the theater of operations - light brown or tan uniforms for desert warfare and white and dark brown winter parkas for winter warfare.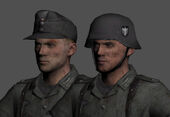 Luftwaffe
The Luftwaffe are the Air Force of the German military is often seen in the form of planes which the player must either shoot down or take cover from, their role in Call of Duty is limited as they are rarely directly confronted.
Kriegsmarine
The Kriegsmarine was the naval warfare branch of the German military during World War II. The most significant appearance of the branch forces is during the infiltration of Battleship Tirpitz in Call of Duty, where the player encounters Matrosengefreiter and Korvettenkapitän guards on the ship.
Waffen-SS
The Waffen-SS were the armed wing of the Nazi Party's Schutzstaffel. They are rarely seen, and often distinguishable from regular soldiers when playing Call of Duty as their uniforms are slightly different as they wear camouflaged smocks and helmet covers, wore SS runes on the collar, had an eagle on the sleeve, divisional cuff title on the left and black shoulder boards for the enlisted men.
Weapons and Vehicles
Guns
Explosives
Aircraft
Ground Vehicles
German Military Personnel
Multiplayer Maps
Call of Duty: Black Ops III
Campaign
The German Military is an enemy faction during a flashback during the mission "Demon Within". In this mission, the Player uses a DNI mental link to force their way into Sarah Hall's mind in which she re-imagines the Siege of Bastogne that she references in her final paper at the Academy. The Player must fight against Hall's warped mental universe. In Hall's mind, the German Military and US Military are both mostly using 2060s-era weapons, with the exceptions being the King Tiger tank, the Stielhandgranates, and the mounted MG42s.
Near the end of the mission, German Military zombies appear, attacking the player with vehement ferocity.
Zombies
The German Military appear zombified in the Zombies maps The Giant and Der Eisendrache.
Call of Duty: WWII
Campaign
The German military appear as the antagonists in every mission of the campaign in Call of Duty: WWII. they also commonly appear alognside the Waffen-SS who first appear in Death Factory. they use mostly German weapons but will sometimes use carptured Russian weapons.
Submachine gunners wear grey uniforms with black pants and have field caps. In Liberation they have unique dark green uniforms and light green caps. In Battle of the Bulge they have black gloves. they use submachine guns such as the Waffe 28,MP40 and captured PPSh-41 smgs.
German Rifleman wear trench coats and helmets, in Battle of the Bulge they have gloves and scarf's around their neck. They use Kar98k rifles or captured Russian SVT-40s. and Polish Karabins.
Shotgunners wear regular infantry uniforms and helmets but also have shotgun shells strapped to their uniforms, in battle of the Bulge they have Splittertarnmuster helmet covers and pants. They use either M30 Luftwaffe Drilling or Toggle Action shotguns.
Machine Gunners have ammo belts around their neck and helmets with leaves tied to them, in Liberation they wear regular helmets, they use either MG42 or MG 15 machine guns.
Flametroopers wear black gloves and a helmet with protective goggles. They use a Flammenwerfer 35 flamethrower. The fuel tank can be shot to set them on fire.
Rocket troopers have green bags filled with rockets and three tank destruction badges on their arms. They use Panzersschreck rocket launchers and Toggle action shotguns in close range.
Snipers Have a similar appearance to the Snipers from multiplayer, they use scoped Karabin semi auto rifles.
Officers wear grey officer uniforms and hats. Use MP40s and behave similar to sub machine gunners.
Multiplayer
The German army appear as most of the playable axis soldiers except for the Airborne Division which more resembles an Italian RSI paratrooper instead of a Fallschirmjäger.
The German Army appear in every mission except The Battle of Midway and Numa Numa Trail.
Riflemen wear trench coats and helmets, they sometimes have masks over their face, in North Africa they have yellow clothing and winter clothing in Lady Nightingale. they use bolt action or semi auto rifles, the soldiers in North Africa they have assault rifles.
Submachine gunners use MP40s with different attachments. in North Africa they have yellow pants and hats with green shirts and red desert goggles. they sometimes use Kar98 rifles with bayonets. Engineers appear in Pheonix, they also use MP40s but their guns have no attachments.
Shotgunners have helmets with straps and have shotguns shells strapped across their chest, they use Einhorn Revolving shotguns.
Snipers wear Ghilie suits and will use scoped G-43 or Kar98k rifles, in close range they use Klauser pistols. The snipers in North Africa have the same appearance as the submachinegunners.
Machine Gunners carry MG42 machine guns and have ammo belts across their chest.
Rocket Troopers carry Panzerschreck rocket launcers and carry Klauser pistols for close range.
A single German officer appears in Lady Nightingale, who uses a Machine Pistol.
Gallery
Call of Duty and United Offensive
The Wehrmacht appears in every mission, except in the United Offensive Multiplayer Berlin map.

Call of Duty 2
Call of Duty 3
Call of Duty: World at War Final Fronts
Call of Duty: World at War
Call of Duty: Black Ops
The German military makes an appearance in the flashback mission "Project Nova".
Call of Duty: Modern Warfare 3
The German military appears as the Bundeswehr, providing tank support to Team Metal, appearing only utilizing Leopard 2 tanks
Call of Duty: Black Ops II
The Imperial German Army appears in the intro for Origins.
Call of Duty: Black Ops III
Call of Duty: WWII
Call of Duty: Vanguard
Quotes
Trivia