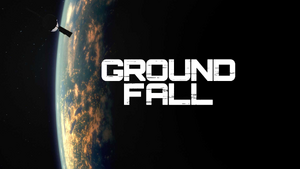 "Brace for impact! The next stage in Stitch's grand plan is here: grounding the US satellite program. Race to complete challenges across Cold War and Warzone."
— Message of the Day
Ground Fall is a seasonal event featured in Call of Duty: Black Ops Cold War and Call of Duty: Warzone during Season Four. It started on June 17th, 2021 and ended on June 24th, 2021.
It narratively focuses on the aftermath of Owethu "Jackal" Mabuza assault on the Jumpseat Satellite Ground Station and Vikhor "Stitch" Kuzmin demand of the Jumpseat Constellation to be crashed across Verdansk and Algeria.
Overview
With Season Four, a new mode was released in Black Ops Cold War for Fireteam, called Sat-Link, which requires players to capture Sat-Link stations to earn points. In Warzone, several Uplink Stations were added in Verdansk '84 in Battle Royale. The Uplink Stations require players to stand near to secure them. After capture, a satellite cache would crash in the vicinity. The cache could contain loot such as a Loadout Drop Marker, a H.A.R.P. Killstreak acting as an Advanced UAV for 90 seconds or an Armored Vehicle Drop which rewarded players with an Armored Truck.
Challenges
The Ground Fall event had 6 challenges between Black Ops Cold War and Warzone, three for each game. Upon completion of either set of challenges, players would receive an Epic Magnum "Private Party" blueprint.
Black Ops Cold War
Rarity
Item
Name
Challenge

Epic

Arcade Game
"Cosmic Commuter"
Uplink Online
In Cold War, earn 1000 points from captured Uplink Stations in Fireteam: Sat-Link.

Epic

Emblem
"Comrade Pupper"
Global Network
In Cold War, get 250 Eliminations in matches on Collateral, Collateral Strike, Hijacked, Amsterdam.

Epic

Calling Card
"Race to the Surface"
High Caliber
In Cold War, get 15 kills with the Hand Cannon Scorestreak.
Warzone
Rarity
Item
Name
Challenge

Epic

Charm
"Satellite"
Uplink Secure
In Warzone, secure 5 Uplink Stations.

Epic

Calling Card
"To the Moon"
Firewall Security
In Warzone, Eliminate 10 enemies while near an active Uplink Station or recently crashed Satellite.

Epic

Emblem
"Launch Time"
Crash Site Recovery
In Warzone, collect 3 rewards from crashed Satellites.