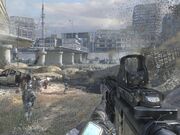 Hunter, or H Company 1st Battalion, 75th Ranger Regiment, is an infantry company that is one of the main units in Call of Duty: Modern Warfare 2 . It is involved in combat in Afghanistan as well as the eastern United States. It is first seen in the level "S.S.D.D." and later on in "Team Player", "Wolverines!", "Exodus", "Of Their Own Accord", "Second Sun", and "Whiskey Hotel".
Afghanistan
The 1st Battalion is deployed in Afghanistan on Day 1, 2016 and it is presumably under the command of General Shepherd. It is stationed at Fire Base Phoenix with several Pave Lows, M1 Abrams tanks, Humvees and Blackhawks. It is involved in a large battle for a demolished bridge. After a heavy firefight, the Hunter Company moves in to clear the city only known as the Red Zone.
Russian Invasion
When the Russian Federation launches a surprise invasion of the eastern United States, the company fights Spetznaz units in Virginia. One of its squads, 2-1, secures a VIP named Raptor. Later, the unit fights in a town called Arcadia. The unit again is involved in heavy fighting in Washington, D.C. when 1st Battalion assaults the U.S. capital. In the fighting, Hunter secures the White House, Department of Commerce and the Washington Monument.