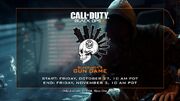 The Halloween Celebration event was live in Call of Duty: Black Ops III from October 27, 2017 to November 1st, 2017. Blackjack's Gun Game was added into the Featured Playlist from Oct 27 - Nov 3, 2017 and a Nuk3town 24/7 playlist. All multiplayer game modes received Double XP, Weapon XP, and Cryptokeys throughout the event. Zombies mode received the same and the equivalent Double Liquid Divinum rewards.
Additions
Overgrowth Camo Giveaway
Players could log in during the event to receive the Zetsubou No Shima Pack-a-punch camo for free, the camo can be found in the extras camo tab for all weapons.
Liquid Divinium and Big Box Bundles

The big box bundle was brought back to the Black Market during the event for five days and granted 100 rare supply drops for a cost of 5000CP.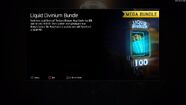 Zombies players could buy a mega bundle of 100 Liquid Divinium for 2000CP during the event.
Der Eisendrache Map Trial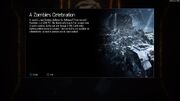 The Der Eisendrache zombies map was made available to play for free in public matches during the event until November 1, 2017.
Gallery