For the Specialist Ability, see Heat Wave.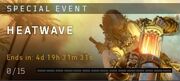 Heatwave was a special event in the Black Market of Call of Duty: Black Ops 4. The event was available between August 30th, 2019 and September 3rd on PlayStation 4, Xbox One and PC.
Like the Fourth of July special event, Heatwave was a supply stream alongside Survivor Contraband from Operation Apocalypse Z. The event had 15 tiers but only 7 tiers contained a reward with the final tier rewarding players with an Ultra Weapon Bribe which guaranteed a ranged weapon from the Black Market.
The tiers were as follows:
| Tier | Item |
| --- | --- |
| Tier 1 | Reserve Case |
| Tier 2 | / |
| Tier 3 | Reserve Case |
| Tier 4 | / |
| Tier 5 | Reserve Case |
| Tier 6 | / |
| Tier 7 | Reserve Case |
| Tier 8 | / |
| Tier | Item |
| --- | --- |
| Tier 9 | Reserve Case |
| Tier 10 | / |
| Tier 11 | Reserve Case |
| Tier 12 | / |
| Tier 13 | Reserve Case |
| Tier 14 | / |
| Tier 15 | Ultra Weapon Bribe |