Infinity Ward is a video game developer located in Woodland Hills, Los Angeles, California. Infinity Ward is the studio behind the creation of the Call of Duty series and is now one of the primary studios working on the franchise.
History
Infinity Ward was founded in 2002 by former employees of 2015, Inc., which developed Medal of Honor: Allied Assault and acquired by Activision in 2003. Infinity Ward's first game, Call of Duty, was released exclusively on PC and used the Id Tech 3 engine. The game won over 80 Game of the Year awards and 47 Editor's Choice Awards.
In 2005, Infinity Ward released Call of Duty 2 for the Xbox 360 and PC. The game used an in-house engine called IW engine which is still the main engine used in the franchise to this day. Call of Duty 2 sold more than one million copies in the United States of America alone and was the first Xbox 360 game to sell 1 million copies in the United States, making it the best selling Xbox 360 game until Gears of War.
Two years later, Infinity Ward released Call of Duty 4: Modern Warfare in 2007. The game became a huge success with over 13 million copies sold by May 2009. Its sequel, Call of Duty: Modern Warfare 2 released in 2009 became the biggest entertainment launch in history at the time earning $310 million during its launch day and $550 million within its first five days of release. The game grossed over $1 billion after two months.
Following tensions between the studio and Activision, leading to a lawsuit and the departure of half of Infinity Ward employees, the remaining staff worked alongside Sledgehammer Games and Raven Software to release Call of Duty: Modern Warfare 3 in 2011. Modern Warfare 3 was a massive success grossing over $400 million on its launch day, $775 million within its first five days of release and became the fastest-grossing entertainement product to reach $1 billion in 16 days, beating the Avatar movie, which earned $1 billion in 19 days. The record was eventually broken by Call of Duty: Black Ops II when it reached $1 billion in 15 days.
In 2013, Infinity Ward released Call of Duty: Ghosts. Three years later, in 2016, the studio released Call of Duty: Infinite Warfare. Both games saw their sales down compared to Black Ops II and Call of Duty: Black Ops III.
Infinity Ward came back in 2019 with Call of Duty: Modern Warfare, a re-imagining of the Modern Warfare franchise. The game featured a revamped version of the IW engine developped by Infinity Ward Poland over 5 years[2][3]. This allowed Infinity Ward to deliver large-scale maps supporting 64 players with drivable tanks and vehicles. The game became a massive success, grossing over $600 million within its first three days of release, the biggest launch for a Call of Duty game in the eighth generation of consoles. By December of the same year, the game grossed more than $1 billion.
On February 3, 2022, Activision confirmed during an investor's call that the year's Call of Duty title would be developed by Infinity Ward. [4] [5] On February 11, 2022, in a post on the Call of Duty blog, it has been confirmed that the Call of Duty title is a sequel of Call of Duty: Modern Warfare released in 2019 and also a new Warzone experience is in development, both led by Infinity Ward. [6] On April 28, 2022, officially confirms the name of the game as Call of Duty: Modern Warfare II and it is set to be released in late 2022. [7]
Lawsuit
Two former employees of Infinity Ward, Jason West and Vince Zampella, were locked up in a lawsuit with Activision over unsettled royalties, which they did not receive for the sales of Call of Duty: Modern Warfare 2. Activision also sued West and Zampella along with Electronic Arts for $400 million,[8] for certain conspiracies which aimed to detriment Modern Warfare 2. West and Zampella were accused of helping EA with the development of rival game Battlefield: Bad Company 2, which would count as a breach of their contracts with Activision. Eventually, West and Zampella added fraud charges against Activision in their counterlawsuit.[9] As of June 2012, Activision settled all lawsuits involving former IW developers including West and Zampella.[10]
After the disputes, a significant amount of employees left Infinity Ward, Mike Seal and Carly Gillis left before the firings of West and Zampella, with some consequently joining Respawn Entertainment, a game company created by West and Zampella.
Controversy
For more information, see

Wikipedia's article on the controversies surrounding Call of Duty: Modern Warfare 2

.
Infinity Ward was the focus of much controversy before Call of Duty: Modern Warfare 2 was officially released, when a video showing the mission, "No Russian", was released in which the player had the option to kill civilians as an undercover CIA agent posing as a terrorist. The player was, however, given an option to skip the level without being penalized in any term of progress or achievements/trophies.
Infinity Ward was also criticized for certain decisions announced further before the game was leaked, when it was revealed that they had removed support for dedicated servers for the PC version of the game, instead opting to use a matchmaking system similar to the console versions of the games, known as IWNet. This denied PC gamers from being able to mod the game easily, as well as limiting the amount of players in a match. It was also revealed that the developer console and leaning had also been removed.
A user on the Infinity Ward forums discovered that when one attempted to write the words "cunt" or "bitch", it would be censored and replaced with the word "girl", drawing complaints from gamers that this was "sexist". Robert Bowling, Infinity Ward's creative strategist, described it as a "word censor fail", and corrected the mistake the very next day.[11]
Infinity Ward was also accused of being homophobic, when a viral video about grenade spamming in Call of Duty: Modern Warfare 2 was uploaded on YouTube. The video called grenade spammers "pussies" and urged players to "Fight Against Grenade Spam", the acronym being "F.A.G.S.".
Call of Duty games
Assistant Developer
Major employees
Current Employees
Steve Ackrich - CEO
Candice Capen - Production Coordinator
Scott Carpenter - Lead Multiplayer Level Designer
Joe Cecot - Co-Design Director
Simon Cournoyer - Technical Director
Madison Cromwell - Associate Producer
Mike Denny - Lead Game Designer
Joshua Dunham - Senior Environment Artist
Joel Emslie - Studio Art Director
Mark Grigsby - Animation Director, voiced SSgt. Griggs (Call of Duty 4: Modern Warfare)
Steve Holmes - Event Designer
Julian Luo - Principal Designer
Dom McCarthy - Producer
David Mickner - Multiplayer Designer
John Mundy - Senior Game Designer
Jolyon Myers - Senior Level Designer
Travis Ramon - Production Coordinator
Velinda Reyes - Lead Lighting Artist
Alexander Roycewicz - Senior Multiplayer Designer
Paul Sandler - Lead Level Designer
Ranon Sarono - Senior Animator
Dan Savage - Lead Vehicle Artist
Nathan Silvers - Tools Engineer
Geoffrey Smith - Multiplayer Design Director
Dave Stohl - Studio Head
Zach Volker - Lead Animator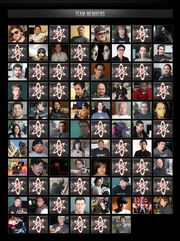 Former employees
Before Modern Warfare 2
Benjamin Bastian - Software Engineer
Lacey Bronson - Executive Assistant
Richard Cheek - Technical Animator
Kevin Chen - Artist
Hyun Jin Cho - Software Engineer
James Chung - Artist
Grant Collier - President of Infinity Ward
Ursula Escher - Animator
Brian Gilman - Level Designer
Carl Glave - Software Engineer
Jack Grillo - Audio
Chris Hassell - Artist
Rodney Houle - Level Designer
Eric Johnsen - Associate Producer
Paul Jury - Artist
Brian Langevin - Software Engineer
Patrick Lister - Associate Producer
Herbert Lowis - Artist
Steve Massey - Game Designer
Sarah Michael - Software Engineer
Michael Nichols - Senior Recruiter
Bryan Pearson - Software Engineer
Eric Riley - Producer
Linda Rosemeier - Audio
Emily Rule - Animator
Chuck Russom - Audio
Nicole Scates - Administrative Assistant
Alexander Sharrigan - Information Technology
Dan Smith - Associate Producer
Jiwon Son - Artist
Soompoom Tangchupong - Artist
Justin Thomas - Lead Artist
Ken Turner - Development Director
Harry Walton - Animator
After Modern Warfare 2
The people who left before the firings of West and Zampella
Carly Gillis - Executive Assistant
Mike Seal - Quality Assurance Manager
The people who were fired in March 2, 2010
The people who resigned between April-May 2010
Roger Abrahamsson - Level Designer
Mohammad Alavi - Game Designer
Todd Alderman - Multiplayer Design Director
Brad Allen - Senior Artist, Concept Artist
Richard Baker - Lead Software Engineer
Chad Barb - Software Engineer
Keith "Ned" Bell - Level Designer
Christopher Cherubini - Lead Environment Artist
William Cho - Artist
Kristin Christopher - Human Resources/Recruitment
Jon Davis - Software Engineer
Christopher Dionne - Level Designer
Bruce Ferriz - Senior Animator
Robert Field - Lead Software Engineer
Steve Fukuda - Lead Game Designer, Writer, Additional Writer and Additional Voice Director
Robert Gaines - Lead Visual Effects Artist
Francesco Gigliotti - Lead Software Engineer
Preston Glenn - Game Designer
Joel Gompert - Software Engineer
Chad Grenier - Game Designer
John Haggerty - Software Engineer
Earl Hammon - Lead Software Engineer
Cathie Ichige - Executive Assistant
Jake Keating - Game Designer
Chris Lambert - Software Engineer
Ryan Lastimosa - Artist (specialized in weapons)
Mackey McCandlish - Lead Game Designer
Jason McCord - Level Designer
Drew McCoy - Systems Administrator
Brent McLeod - Game Designer
Paul Messerly - Lead Animator
Mario Perez - Motion Capture Artist
Zied Rieke - Lead Game Designer
Jon Shiring - Software Engineer
Jiesang Song - Software Engineer
Sean Slayback - Game Designer
Richard N. Smith - Artist
Todd Sue - Artist
Rayme C. Vinson - Software Engineer
Charlie Wiederhold - Game Designer
Before/After Modern Warfare 3
Gennaday Babinchenko - Environmental Artist
Alessandro Bartolucci - Software Engineer
Peter Blumel - Associate Producer
Robert "fourzerotwo" Bowling - Creative Strategist
Andy Dohr - Associate Producer
Aaron Eady - Game Programmer
Derric Eady - Artist
Chance Glasco - Animator
John Harries - Senior Software Engineer
Jeff Heath - Environment Artist
Brian Horton - Studio Art Director
Neel Kar - Technical Animator
Richard Kriegler - Art Director
Bryan Kuhn - Software Engineer
Chris Lai - Information Systems Analyst
Cheng Lor - Technical Animator
Jeremy Luyties - Senior Game Designer
Timothy McGrath - Art Director
Sami Onur - Artist
Tina Palacios - Production Coordinator
Eric Pierce - Lead Technical Animator/Artist
Carlos Pineda - Game Designer
Mark Rubin - Executive Producer
John Sahas - Senior Game Designer
Jesse Snyder - Gameplay Director
Theerapol Srisuphan - Artist
Lisa Stone - Receptionist
Janice Turner - Office Manager
Andrew Wang - Software Engineer
Sarah Wang - Artist
John Wasilczyk - Associate Producer
Lei Yang - Animator
Jeff Zaring - Senior Level Designer
Lee Ross - Former Associate Project Director
Ashton Williams - Former Senior Communications Manager
Former and current Quality Assurance Testers
Athena Abdo
Cory Aldridge
Bryan Anker
Adrienne Arrasmith
Andrew Baxter
Estevan Becerra
Mary Benitez
Scott Bergin
Chelsy Berry
Jason Boles
Valentin Cain
Reilly Campbell
Candice Capen
Brian Carl
Alex Carracino
Terran Casey
Shamen'e Childress
William Cho
Clifton Cline
Kyle Collier
Zack Cooper
Jerry Cortes
Vincent Couch
David De La Torre
Dimitri Del Castillo
Brian Dionne
Keith Doran
Paco Erskine
Veronica Flint
Richard Garcia
Jemuel Garnett
Oliver George
Daniel Germann
Kristopher Green
James Gutierrez
Ed Harmer
Justin Harris
Evan Hatch
Clive Hawkins
Chris Hermans
Ronald Hines
Meghan House
Paul Hunt
Anthony Interrante
Alex Jacobson
Winyan James
Dagmar Jantzen
Matthew Jones
Brant Kortman
Tan La
Matthew Lackowski
Stephanie Langwell
Rene Lara
Keith Leopold
Eric Liffer
Steve Louis
Scott Matloff
Gavin McCandlish
Patrick McGinnis
Alexander Mejia
Robert Mercado
Matthew Mercer
Jessica Miller
Michael Miller
Adrian Montoya
Maria Morales
Christian Murillo
Obed Navas
Gavin Niebel
Keith Norwood
Peter Nuoffer
David Oberlin
Benjamin O'Brien
Norman Ovando
Kevin Pai
Romulo Pedroza
Ruy Pena
Michael Penrod
Thaddeus Phillips
Juan Ramirez
Travis Ramon
Robert Riter
Michael Robinson
Lindsey Root
Brian Roycewicz
Anthony Rubin
Andrew Rumer
Mark Ruzicka
Tristen Sakurada
Enrique Sanchez
Adrian Sandoval
Georgina Schaller
David Schultz
Justin Schwartz
Mike Seal
Alexander Sharrigan
Chris Shepherd
Ann Smith
Drew Surmenian
Keane Tanyoue
John Theodore
Jason Tom
Patrick Tomsen
Vaughn Vartanian
Max Vo
Robert Wai
Krystle Wallis
Daniel Wapner
Irma Ward
James Waters
Alex Weldon
Brandon Willis
Videos
Trivia
In their games, most of the American characters' names are named after Infinity Ward staff. Many signs and buildings can be seen with the names of employees on them as well.
The Infinity Ward logo is an obtainable emblem for the player's multiplayer callsign in Call of Duty: Modern Warfare 2 and Call of Duty: Modern Warfare 3. It is also available as an accessory in Call of Duty: Infinite Warfare.
The Infinity Ward logo "atom" and the IW acronym are referenced in their games as mostly obscure easter eggs.
External links
References