Tell the article to standby; we're on our way. Out.
This article contains information about a subject that is scheduled to make an appearance in Call of Duty: Modern Warfare 3.
Please do not add non-referenced or speculative content until it can be confirmed by the game's release.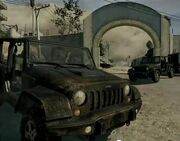 The Wrangler is a compact four-wheel sport utility vehicle seen in Call of Duty: Modern Warfare 3.[1] It is deployed by French GIGN and chased by multiple Russian GAZ-2975 throughout the streets of Paris. It is also seen being chased by a Hind in desert terrain.
References
Community content is available under
CC-BY-SA
unless otherwise noted.