Josh Olin, also known by his username JD_2020, was Treyarch's Community Manager. Any official information regarding Treyarch's games in the Call of Duty franchise was released through him, generally via his Twitter account.
Biography
Josh Olin states he always wanted to be involved with game design in one form or another, starting with "PC modification[s] for Call of Duty 2 back in the day". After gaining an interest in blogging, Olin created a Call of Duty fan site which gained the attention of Treyarch, who were looking for a Community Manager during the development of Call of Duty: World at War in January 2008.[1][2]
As of 30th September 2011, Josh Olin is no longer Treyarch's Community Manager.[3]
Trivia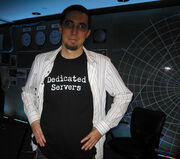 Josh Olin's fan-site was originally located at CoDHQ.com[2]
His favorite Call of Duty game, "in a landslide victory", is Call of Duty: United Offensive, which was also the first game he started mapping and modding.[2]
Josh Olin was photographed wearing a 'Dedicated Servers' shirt not long after Call of Duty: Black Ops was announced, leading many to believe that the PC version of the game would return with support for dedicated servers. This was a reference to the controversy surrounding Infinity Ward's choice to remove support for dedicated servers with Call of Duty: Modern Warfare 2.
See also
References
External links
Community content is available under
CC-BY-SA
unless otherwise noted.