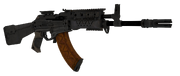 The KN Weapon Platform is a popular open-source series of weapon designs that appears in Call of Duty: Black Ops III. It is incredibly popular worldwide due to its cheap cost, customization, and reliability. An example of an assault rifle made from the KN Weapon Platform is the KN-44. Also appears in Black Ops 4, the new weapon's name is KN-57.
The KN Weapon Platform was introduced in 2042, when schematics for the design were leaked to file-sharing websites by disgruntled employees of an unspecified company. The open-source design quickly became extremely popular because it could be easily manufactured using most 3D printers; by the 2050s, KN-platform weapons were appearing on battlefields all over the world.
The most successful KN-platform weapon is the KN-44, a multi-calibre assault rifle that was formally adopted by the Common Defense Pact in 2062. It was also a favorite of civilian gunowners and Western military forces, and was used by the Winslow Accord's special forces.
Other examples of KN-platform weapons include the KN-42A3 and the KN-43A3, both of which were used by the CDP before being replaced by the more accurate KN-44.
Community content is available under
CC-BY-SA
unless otherwise noted.