"It's Liberty Strike in Call of Duty®: WWII. Rally your squad and show your national pride in this exciting limited-time Community Event. Captain Butcher is back and brings new uniforms for each Division, including seven distinct country-themed kits. He's also recruited the services of the new Cavalry Division, and stocked four all new weapons, to help make the final push toward victory. Plus, experience the free Wanderlust game mode variant, available only until July 24 when the Liberty Strike Community Event concludes."
— Liberty Strike official description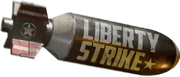 Liberty Strike was an event in Call of Duty: WWII, from July 2nd, 2018 to July 24th, 2018.[1]. The new event featured 4 new weapons along with new camouflages and charms, new uniforms, a new community challenge, and the return of Captain Butcher.
Additions
Game Modes
As its name suggests, this new mode used the ability from the Wanderlust Basic Training. Players got a new random weapon (up to six randoms attachments) every time they switched weapons.
Weapons
Four new weapons were added added to the game:
Zombies Characters and Multiplayer Uniforms
Four new characters were added to the Nazi Zombies mode. Players needed to complete contracts to earn them. Those characters were also available as uniforms for the Multiplayer mode once the contracts were completed.
Community Challenge
A New Community Challenge starts on July 2nd and ended on July 24th, 2018. The challenge was featured across all platforms and special rewards could be unlocked for all players by getting multiplayer match wins, the ending goal was 260 million wins.
Tier 1: "Canadian" Calling Card and 1 Zombie Consumables Supply Drop.
Tier 2: "British Flag" Weapon Charm and 1 Zombie Consumables Supply Drop.
Tier 3: "American II" 1911 Weapon Variant and 1 Zombie Consumables Supply Drop.
Tier 4: "Fez" Special Helmet and 1 Zombie Consumables Supply Drop.
Tier 5: "Independent II" M1 Garand Weapon Variant and "Kitschig" Zombies Weapon Camo.
Videos
References