Nate's Restaurant is a restaurant featured in Call of Duty: Modern Warfare 2.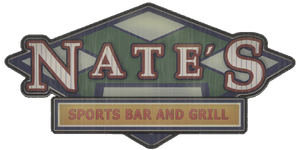 Nate's seems to be a sports bar, its full name being Nate's Sports Bar and Grill. Upon close inspection it is first seen in the level "No Russian", when the terrorist squad enters the food court area. Patrons inside hear the gunfire and run. Unfortunately, they run right into the path of Makarov and Lev's gunfire and die immediately, knocking a police officer off balance from where he was aiming at the terrorists, and causing himself to be killed as well. In "Wolverines!", during the initial Russian invasion, the location takes on a more important role, providing cover for the 75th Army Ranger Regiment and a High Value Individual, codename Raptor. This location is adorned with neon signs, artsy chandeliers, and surprisingly few TV's for a sports bar. After the player eliminates the UAV operator inside Joe's Diner, two Russian fast movers flatten half of Nate's, literally inches from killing Sgt. Foley and Raptor. Most of Nate's is destroyed, except the kitchen and some of the dining room.
Nate's Restaurant is located in a strip mall along with several other businesses (Burger Town, Taco ToGo, CRB Financial, Nova Star, Joe's Diner) in Virginia. Nate's Restaurant also appears in the Special Ops missions Body Count, Big Brother, and Homeland Security.
There appeared to be some special meals on the day or, more likely, the day before the Russians invaded which included:
Chinese Style Steamed Fish
The day's special desserts included:
Nate's appears to be a parody of the North American franchise, "Nathan's."
On the green chalkboard displaying the menu, "Desserts" are misspelled as "Deserts."
Nate's appears in the Call of Duty: Modern Warfare 3: Defiance level "Clean Up" in the form of advertisement posters. This is also seen on the multiplayer map The Dark as a billboard on a building.
Community content is available under
CC-BY-SA
unless otherwise noted.