Tell the article to standby; we're on our way. Out.
This article contains information about a subject that is scheduled to make an appearance in upcoming content.
Please do not add non-referenced or speculative content until it can be confirmed by the game's release.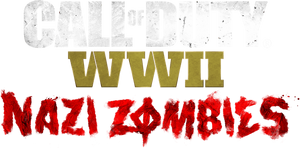 "Call of Duty: WWII Nazi Zombies is an original, terrifying co-operative mode that unleashes a frightening new horror story for Call of Duty zombies fans. Nothing is as it seems in this zombies horror, as a dark and sinister plot unfolds to unleash an invincible army of the dead."
— Description

Nazi Zombies is a game mode that will be featured in the upcoming game Call of Duty: WWII, developed by Sledgehammer Games. It will be primarily based in World War II and is focused on a horror-driven and gritty experience.[1] The first map available for the mode is Army of the Dead.
Gallery
Videos
References
Community content is available under
CC-BY-SA
unless otherwise noted.