For other uses, see Nuketown.
Nuketown
Game
Call of Duty: Black Ops
Call of Duty Online
Call of Duty: Mobile
Teams
Black Ops vs. Spetsnaz


Task Force 141 vs. Shadow Company

Location
Nuketown,

Nevada National Security Site

,

Nevada

, United States of America
Terrain
Urban
Modes
All, Nuketown 24/7
Type of Combat
Close Quarters
Console Codename (PC)
mp_nuked
Zombies Map
Nuketown Zombies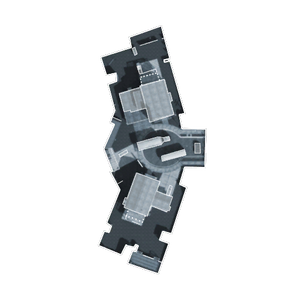 "Nuclear testing grounds. Lots of fast paced action."
— Nuketown's map description

Nuketown is an iconic multiplayer map featured in Call of Duty: Black Ops, Call of Duty Online, and Call of Duty: Mobile with a heavy emphasis on extremely close-quarters combat. The map has been remade and featured in Call of Duty: Black Ops II, Call of Duty: Black Ops III and Call of Duty: Black Ops 4 with a similar layout and new aesthetics.
Nuketown is one of the smallest maps in the Call of Duty series, along with Shipment (Call of Duty 4: Modern Warfare), Dome (both Call of Duty: World at War and Call of Duty: Modern Warfare 3), Rust (Call of Duty: Modern Warfare 2) and Hijacked (Call of Duty: Black Ops II). The map is based on a typical 1950's U.S. suburb used to demonstrate the effects of a nuclear weapon on a residential area; mannequins as well as accessible buildings and vehicles appear throughout the map. At the end of every game played on Nuketown, a nuclear bomb goes off during the scoreboard sequence.
The map is mostly symmetrical, as there are two houses with two floors and a garage, a back yard to both and a middle section with a few vehicles. In both ends, the team spawns in a garden area in the backyard. The player may take a road to the center of the map on either side of the house, go through it or go to the upper floor, which has a vision over the center and the other house. The chaotic action happens mainly in the center which has sightlines ideal for submachine guns and assault rifles.
The upper floor is a popular place for snipers as well as players who prefer staying back from the action. It is accessible by three ways; there are two stairs, in the backyard and inside the house on the room closest to center, and there is a gardening balcony outside the house on the main window, which can be climbed. However, the ladder is a very risky way, as the player is open to enemy fire.
Call of Duty Black Ops II
Edit
Main article: Nuketown 2025
Main article: Nuketown Zombies
Call of Duty Black Ops III
Edit
Main article: Nuk3town
Call of Duty Black Ops 4
Edit
Main article: Nuketown Island
Main article: Nuketown (Black Ops 4)
Call of Duty: Black Ops
Edit
Call of Duty: Online
Edit
Main article: Nuketown (Map)/Trivia