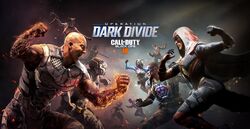 Operation Dark Divide[1] is the sixth and final Operation within Call of Duty: Black Ops 4. It started first on PlayStation 4 on September 23rd, 2019, with Xbox One and PC following a week later on September 30th. It has no end-date set.
Operation Dark Divide
Weapons
Multiplayer
Maps
Blackout
Characters
Wonder Weapons
Vehicles
Modes
Zombies
Maps
Gauntelts
Elixir
Power Vacuum
Secret Shopper
Gallery
Videos
Trivia
Most of the Specialists were given a superhero/supervillain alias, and were divided into heroes and villains.

The Specialists that aligned as superheroes are:
The Specialists that aligned as supervillains are:
The HBT-1B tank in Blackout is stated at the MBT-1B in the roadmap.
References