For the location, see Rebirth Island.
For the Call of Duty: Warzone map, see Rebirth Island (Warzone).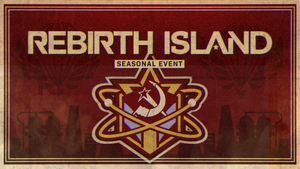 Rebirth Island, also known as the Rebirth Event was a seasonal event coinciding with the launch of the Call of Duty: Warzone map Rebirth Island during Season One of Call of Duty: Black Ops Cold War. It lasted from December 16th, 2020 to January 4th, 2021.
Overview
Challenges
Rebirth Island featured 16 challenges that were completable in Rebirth Island. All players that logged in during the event were rewarded with a free Rare "Star Seeker" emblem. Upon completion of all challenges, players would receive a Legendary "Hazardous" Krig 6 blueprint.
| Rarity | Item | Name | Image | Challenge |
| --- | --- | --- | --- | --- |
| Rare | Animated Calling Card | "BRB" | | Pilot a vehicle for 20 minutes on Rebirth Island. |
| Rare | Calling Card | "Experimentation" | | Complete any 30 contracts on Rebirth Island. |
| Rare | Weapon Charm | "Corrosive" | | Buy 30 killstreak items on Rebirth Island. |
| Rare | Emblem | "Brother Bear" | | Open 100 crates on Rebirth Island. |
| Rare | Sticker | "Again!" | | Collect 200 piles of plunder from the ground on Rebirth Island. |
| Rare | Emblem | "Shooting Star" | | Collect your loadout 20 times on Rebirth Island. |
| Rare | Emblem | "Rebirth" | | Place in the top 30% 5 times on Rebirth Island. |
| Rare | Calling Card | "Heroic Sacrifice" | | Get 30 kills with a Common weapon on Rebirth Island. |
| Rare | Sticker | "Hazard Warning" | | Get 30 kills with a Legendary weapon on Rebirth Island. |
| Rare | Calling Card | "Soviet Space Program" | | Get 2 kills or assists while in a vehicle on Rebirth Island. |
| Rare | Calling Card | "Loading..." | | Destroy 1 vehicle carrying enemies on Rebirth Island. |
| Rare | Sticker | "Red Bear" | | Use 50 Armor Plates on Rebirth Island. |
| Rare | Calling Card | "Familiar Fortress" | | Place in the top 30% 15 times on Rebirth Island. |
| Legendary | RPD Blueprint | "Noxious" | | Place in the top 30% 30 times on Rebirth Island. |
| Rare | Emblem | "Thunder Bolts" | | Get a kill before the first circle closes 1 time on Rebirth Island. |
| Rare | Weapon Charm | "Reborn" | | Kill 100 downed enemies on Rebirth Island. |
Gallery