Vandalism
Welcome to the Call of Duty Wiki. Although everyone is welcome to make constructive contributions here, at least one of your recent edits did not appear to be constructive, and has been reverted. Vandalism includes, but is not limited to: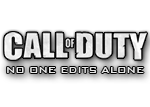 Removing information from articles
Spamming articles
Adding inappropriate/rude/offensive comments/pictures to articles
Creating spam pages
Uploading offensive/rude images
Adding incorrect information to articles multiple times
Undoing perfectly good edits
Please use the sandbox for any test edits you would like to make, and I strongly urge you to read the policy page to learn more about contributing constructively to this wiki. If you continue vandalizing, you will be subject to a block. Remember, we can easily undo vandalism with a few clicks of the mouse. Thank you.
Community content is available under
CC-BY-SA
unless otherwise noted.