The Sergeant says, "This article needs more content, so stop messing around and add to it right now!"

Please expand the article as well as you can!

The Last Train is a campaign level in Call of Duty 2: Big Red One.
Characters
Edit
The level starts out with the squad in Buchholz, Germany. The player is tasked with fighting across town to reach a train station, encountering heavy enemy resistance in fierce house-to-house fighting. The player is also given support from a few Sherman tanks. The player comes across a mortar team and is required to take them out, and is also required to plant explosives on a FlaK 88 to allow the tanks to continue on. The squad eventually reaches a barn where they find a Panzer IV tank being refueled by a squad of German soldiers. Because of a previous tank experience, the player is given command of the tank. The squad gets in the tank and makes their way to the train station, encountering several anti-tank squads and other Panzers. When they reach the station, the player is tasked with destroying a fuel car attached to a train. The player fires a tank shell at the car, destroying the rest of the train. The player then drives over the train tracks just as the tank runs out of gas. The level ends with the player and the squad disembarking from the tank.
Weapon Loadout
Edit
If subtitles are activated they will say "goddamned station", even though Delaney only says "Let's punch a hole through this station!"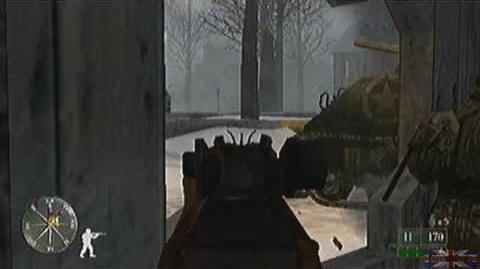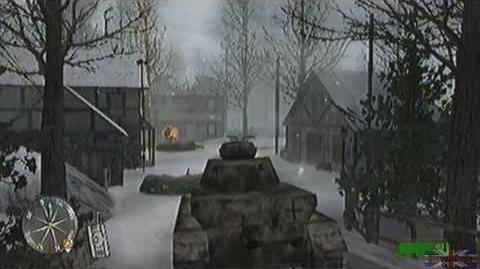 Community content is available under
CC-BY-SA
unless otherwise noted.