"The Dark Aether's power looms and the outbreak can no longer be contained!"
— Description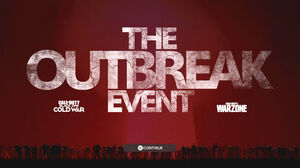 The Outbreak Event was a seasonal event featured in Call of Duty: Black Ops Cold War Zombies and Call of Duty: Warzone during Season Two of Black Ops Cold War content. It lasted from February 25th, 2021 to March 11th, 2021.
Overview
Outbreak
Main article: Outbreak (Cold War)
The Outbreak Event came during Season Two's launch, which coincided with the new Black Ops Cold War Zombies mode called "Outbreak", which is a large-scale mode taking place on the Fireteam maps set in the Ural Mountains.
Shipwreck
Main article: Vodianoy
Alongside the launch of Outbreak, the Verdansk map in Warzone received a new location called Shipwreck; a Soviet-era cargo ship named "Vodianoy", missing for decades, that had suddenly reappeared in modern-day Kastovia. The Vodianoy itself was infested with zombies, who acted hostile to all players present in the area.
Challenges
The Outbreak Event had 9 challenges for Black Ops Cold War's Outbreak and Warzone, coming to a total of 18 challenges altogether. Upon completion of all Black Ops Cold War challenges, players would receive an Epic LW3 - Tundra "Gray Matter" blueprint, while completion of all Warzone challenges would reward the player with a Rare 1911 "Teal" blueprint.
Black Ops Cold War
| Rarity | Item | Name | Image | Challenge |
| --- | --- | --- | --- | --- |
| Epic | Weapon Charm | "Gas Mask" | | In Outbreak, successfully exfil 3 times. |
| Epic | Sticker | "Amigos" | | In Outbreak, eliminate 250 Zombies. |
| Epic | Watch | "Dark Aether" | | In Outbreak, eliminate 10 Elites. |
| Epic | Sticker | "Grasp for Power" | | In Outbreak, open 25 chests. |
| Rare | Weapon Charm | "Pure Anguish" | | In Outbreak, complete 3 World Events. |
| Epic | Calling Card | "Sounds of Hell" | | In Outbreak, warp 10 times. |
| Rare | Calling Card | "Augmented Monstrosity" | | In Outbreak, eliminate 3 Special Zombies. |
| Epic | Emblem | "Not the Last" | | In Outbreak, use vehicles to eliminate 100 Zombies. |
| Rare | Weapon Charm | "Stitched Together" | | In Outbreak, complete 10 objectives. |
Warzone
| Rarity | Item | Name | Image | Challenge |
| --- | --- | --- | --- | --- |
| Rare | Calling Card | "Ever Closer" | | In Warzone, kill 10 Zombies with headshots. |
| Epic | Weapon Charm | "Cleaning Supplies" | | In Warzone, eliminate 20 Zombies. |
| Rare | Emblem | "Strange Emission" | | In Warzone, use lethal equipment to kill 8 Zombies. |
| Rare | Emblem | "Skull Survivor" | | In Warzone, use vehicles to eliminate 3 Zombies. |
| Epic | Sticker | "Heads Blazin'" | | In Warzone, eliminate 5 Zombies in a single match 3 times. |
| Rare | Calling Card | "Crosswalk Chaos" | | In Warzone, use shotguns to eliminate 8 Zombies. |
| Epic | Calling Card | "Legion Remade" | | In Warzone, rapidly kill 2 or more Zombies 2 times. |
| Epic | Emblem | "Immolation" | | In Warzone, use Pistols to eliminate 8 Zombies. |
| Rare | Calling Card | "Almost Dead" | | In Warzone, eliminate 8 Zombies before the first circle closes. |
Gallery