Timothy Jonathan Simons
Nickname(s)
Simon Says
Participated in
Gulf Storm, Iraq War, Afghani War, Second Russian Revolution, Russo-American War
Rank
Sergeant Major of the Army (SMA, E9)
Affiliations
United States Army, 3RD Armored
Status
Active, Southern-Georgia area
Birth
2 September 1970
Weapon
M1A2 Abrahams w/TUSK, SCAR-H SOFMOD, Two custom M1911 (Kimber Long-barrel, stainless manufacturing, artificial diamond plated, gold-striped rubber grips, picatinny tactical mount, aluminum iron-sights)
Timothy Simons is a role-play character created to live in the events of both reality and Infinity Ward's Modern Warfare series. He is a Sergeant Major of the Army in the 3RD Armored Cavalry Regiment. He serves as a platoon commander with his best-friend Samuel Smith, who serves a squad commander. He has gained a reputation as an excellent strategist and tactician.
Biography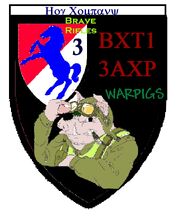 Childhood to Early Adulthood
Timothy Jonathan Simons was born on 2 September 1970 in the small town of Saugus, California. As a child he enjoyed swimming, running, fishing and hunting, as well as a myriad of sports including baseball and football. Growing up he was an only child, his father taught him to be strong in the face of adversity, to accept aid when it was offered, and to offer aid when it was needed. While he played sports with his father, his mother taught him to cook, sew, and clean. Upon turning fifteen (15) years of age, he enrolled at Hart High School. There he met his best friends Samuel and Samantha Smith. In their second year of high school (year 10) Samantha and Timothy began dating. The three continued through high school as honors students, the three were within the top twenty in rankings.
Early Adulthood to Desert Storm
After graduating from Hart in 1987, both Timothy and Samuel decided to enlist in the Army. Following basic training the two friends tested well in marksmanship and intelligence. After some discussion and thought, they requested tank training. During training Simons and Smith scored highly on tests, both were quickly promoted to the rank of Sergeant. They were transferred to the notable 2ND Armored Cavalry Regiment. In 1991 they were deployed with their unit to Kuwait and Iraq as a part of Operation Desert Storm. In the following years they were both promoted to Rank E6. In 1991 following their return home, Simons was married to Samantha Smith who had been his fiancee since their graduation from high school. They lived a happy life and had two children in the following years, Jonathan and Christopher--after Timothy's father and Samuel's middle name.
Afghanistan and Iraq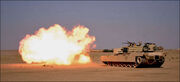 By the time of the Afghani war they had both accrued great experience as tank commanders. In 2004 they were transferred to the 3RD Armored Cavalry Regiment as 2ACR was reorganized as 2 Stryker Cavalry Regiment. They deployed to Iraq where they combated insurgents. Simons was promoted thrice more in that time to the rank of E9 (Sergeant Major of the Army). Smith was promoted to the rank of E8 as a squad leader under Simons' platoon leadership. Timothy and Samantha had a daughter in 2004 whom they named Devon. Jonathan was 10 and Christopher was 8.
Second Russian Civil War and Al-Asad Crisis
In 2011 they deployed with 3ACR to the Middle East during the Al-Asad crisis. They were of the lucky number that were not within the blast radius of the nuclear device when it detonated. In the post-war years Simons and Smith lived in their hometown with family. In 2012 Jonathan graduated from Valencia High School and enlisted in the Army Infantry. In 2014 Christopher followed his brother. Both were Army Rangers in 75TH Ranger Regiment 2ND Battalion by 2016 when the Russo-American War erupted.

Russo-American War
Samantha and her daughter Devon worried at home while the men defended their nation on the eastern seaboard. Devon was now 12. Timothy and Samuel were of the age of 46 when they were called to combat in Southern Georgia. They quickly moved north as 3ACR burned its way through Russian forces poorly equipped to handle armed American citizens. A joint task force consisting of a dozen regular Army regiments, two Marine battalions, twenty reserve battalions and several hundred thousand armed civilians. By late august the group had reached Washington, D.C. where they joined the remainder of the 75TH Ranger Regiment and scattered other units. In the aftermath of the destruction Timothy, Samuel, Christopher, and Jonathan continued to clean up pockets of resistance.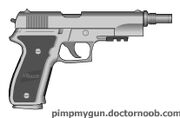 Aftermath and Counter-Assault
Rebuilding America was a task delegated to other departments. In late 2016 3ACR joined several other reorganized units as part of the counter-assault. Today Timothy and Samuel are fighting in Eastern Siberia, clearing the region of Ultranationalists with the aid of the few remaning Loyalist units. Jonathan and Christopher are currently located in Western Russia as part of the advance to Moscow. Commanders have full intent to slaughter the Ultranationalists and burn Moscow.
Thanks for reading. This is a fiction story with events based on the events of Infinity Ward's Modern Warfare series of Call of Duty games. Continuation pending the release of the third Modern warfare title. Thanks everyone. Darthkenobi0Talk|Blog|Contributions|Editcount
Community content is available under
CC-BY-SA
unless otherwise noted.