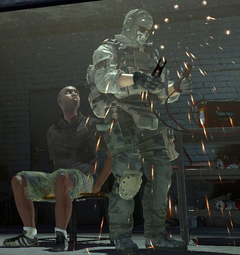 Dynamic text userbars (meaning that when I go on XBL, it'll say I'm online.)
Profile
Currently: ACTIVE

Hey, I'm EightOhEight, a sysop here. I play Call of Duty on the 360, and when I have time, I also make userbars, renders, and landscapes.
I'm a big fan of shooters, and you'll usually catch me playing one. I'll give out my gamertag if someone requests it.
I'm on IRC a lot of the time, so if you want to ask me something in private or just chat, I'll be there.
I'm also an active editor on the Battlefield wikia, and a sysop on the Army of Two wikia.
You can check out any major changes that I'm planning my my sandbox.
I consider Imrlybord7, WouldYouKindly, and Chiafriend12 to be my best friends here on the wiki. TNT LotLP, Mau5killer, Maj.Gage, Poketape, Slowrider7, II Superlative, SaintofLosAngelesXD(m), Griever0311, Callofduty4, Doc. Richtofen, Darkman 4, Juan Jose Rodriguez, Gen.Cain, and Cpl. Dunn are all nice people as well.
I'm part of two usergroups, SPAS-12 Lovers and The 10k Gamerscore Club.
Wikis I Edit
Call of Duty Wikia - Sysop
Army of Two Wikia - Sysop
Battlefield Wikia - Active Editor
Ghost Recon Wikia - Inactive Editor
Want a image?
Do you want a userbar, userbox, or signature?
Just ask me on my talk page, and I'd love to make one for you.
What I've Done as an Administator
What I've Done for the Community
Welcomed 23 users
Created three War Room topics, three of which have been passed.
Created a userbar for Callofduty4
Created a userbar for SaintofLosAngelesXD(m)
Created a userbar for Griever0311
Created a userbar for WouldYouKindly
Created a userbar for Imrlybord7
Created a userbar for Ninoaguila
Created various userbars for Maj.Gage
Created a userbar for II Superlative
Created a userbar for Poketape
Created a signature for II Helljumper II
Created a signature for Cpl. Dunn
Created a signature for Gman111
Created a signature for Doc.Richtofen
Created a signature for Griever0311
Created a signature for Resnov1997
Created a signature for Dark Anomaly
Created a signature for 101st Airborne
Created a signature for Captain Knutzen
Created a signature for Omega8o8
Created a signature for MdDy x GMON3Y
Created a signature for Sactage
Created a signature for CheezyDerek
Created various userboxes
Contests
I am the creator of many contests. The ongoing ones right now are the:
Undercover - MW2 Challenge (The Supreme Trials)
All contest winners usually receive a userbar, userbox, and recognition.
Winners:
Call of Duty Statistics
Userboxes
| | |
| --- | --- |
| | This user is the leader for the TF141 Faction in the Faction Wars! |
| | |
| --- | --- |
| 70px | This user likes blowing things up in style. |
Contacting Me
I have AIM, MSN, and XBL. If you ask for these, I may provide them
Community content is available under
CC-BY-SA
unless otherwise noted.