"Hasta la victoria, siempre"
— Ernesto 'Che' Guevara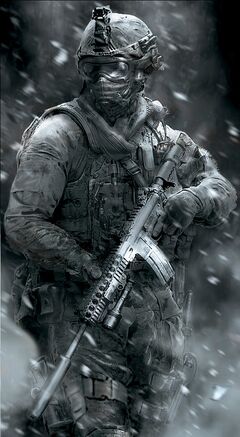 My name is Corporal Juan José Rodriguez, acting administrator on the Call of Duty wikia. I love playing Call of Duty 4 and Modern Warfare 2. I'm an avid writer, video game enthusiast, paintballer and I would be happy to help anyone out in any way I can.
In real life, I'm a writer, a video game enthusiast and aspiring to be a military journalist or an RCMP officer. I was born in Toronto, yet raised in the Canadian Prairies. My greatest accomplishment is my Modern Warfare saga from the perspective of a Mexican Naval Infantryman during the events of Modern Warfare 2. The story is still not yet completed, and I've written a story with - currently - 35,000 words, and still much to be added and rewritten. A very short, yet unupdated version of the story can be found here. Note, this is not the complete storyline. If you have any questions regarding it, please contact me via my talk page or e-mail. (corporalrodriguez@hotmail.com)
My favourite Call of Duty game remains Modern Warfare 2, and I own Call of Duty 4, World at War and Black Ops. I am also able to play Halo: Reach, or World of Warcraft. If you want to play with me or add me, holler at me and leave a message on my talk page. I'm up for discussion for music, games, politics and current events and I can often be found under the name CplRodriguez on our freenode server(wikia-cod).
On the wikia, I've gotten to the administrator position. I've put in a lot of hard work and I fit in pretty well. I've got a lot of friends, so thanks for all the times I've had, and I will continue to serve you guys. I've done edits to virtually every page, reverted vandalism countless times and changed grammatical errors too many times to count. I hope my experience shows in it and I hope my journalist and writing tendencies help me out a lot. Just think of me as the wikia's friendly Mexican-Canadian grammar freak. I will do whatever the Wikia asks of me. On behalf of the administrative staff and all of the Wikia, enjoy your experience here.
Feel free to add yourself. These are people I like, respect or admire.
SaintsofLosAngelesXD(m)||Imrlybord7||Griever0311||Callofduty4||EightOhEight||Darthkenobi0||Doc. Richtofen||DevilWarrior112||WouldYouKindly||General Cain||GamerPr1ncess||Dark Anomaly||Cpl. Dunn||Whiskey35||Dolten||CodExpert
Wonder what music I listen to? Introducing JJR-Radio FM, the home of the realest hip-hop, rock and rap. If a video doesn't work, inform me.
425
"Hero", by Nas. Featuring Keri Hilson.
| | |
| --- | --- |
| | WARNING: This User is an Enforcer (BEAST). |
Community content is available under
CC-BY-SA
unless otherwise noted.