"The purpose of war is not for you to die for your country it is to make the other poor bastard die for his country"
— General George S. Patton


Hi my name is Mikey. I really like playing call of duty. My favorite call of duty game is Modern warfare 2. My favorite assault rifles are the M4 Carbine, the ACR and the SCAR-H. My favorite submachine gun is the P90. I love rushing around with it on salvage. As a matter of fact it is very effective. You can tear through crowds of enemies with one mag in those confined areas. My favorite sniper rifle is the good old Intervention. My favorite Light machine gun is the AUG HBAR. One thing i hate is the FAMAS Grenade launcher. I think that it is the Nubiest thing in the world. I have an extensive knowledge of firearms, so if anyone has any questions about guns or military history i will be more then happy to answer any questions.My favorite map is Bailout. I run around with my ACR and destroy everyone. I have also rightfully earned 10 Tactical Nuke's.
Pimp My Gun
Edit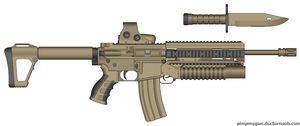 Userboxes
Edit
Call of Duty 4: Modern Warfare
Edit
Call of Duty: World at War
Edit
Modern Warfare 2
Edit
Usergroups
Edit
Miscellaneous
Edit
Nazi Zombie Records
Edit
Nacht Der Untoten: 1P:15; 2P:20  3P:16; 4P: 10
Verruckt: 1P:NA; 2P:16  3P:13  4:15
Shi No Numa: 1P:NA; 2P:24  3P:NA; 4P:NA
Der Riese: 1P:22; 2P:33   3P:24; 4P:25
(Highest Scores only)
Kino Der Toten: 2P:22
"Five": 3P: 30
Ascension: 2P:40
Call of the dead: 2P:15
Shangri-la: 2P: 18
It should be noted that all two player scores were achieved with Azeratos
Community content is available under
CC-BY-SA
unless otherwise noted.