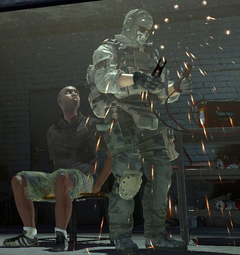 About me
I'm a big fan of shooting games. Whenever I get shooting games, I usually buy them for the Xbox 360, but I also buy shooting games for the PC. I'm a good wiki editor and if you need help, just post something on my talk page. I usually work with things pertaining to the wiki (FAs, Improvement Drive, Interface, templates, etc.) but I edit pages too. Speaking of the Improvement Drive, I overhauled it and made it more FA-like. I used to be the Improvement Drive ruler (until I went semi-active) and I used to be the only administrator that did anything concerning it. I was also the User of the Month for January 2010! I prefer Treyarch over Infinity Ward. I still want Monaco back, so currently I use Monobook.
Pages I've Created
Sidebar
Mediawiki Stuff
Sitenotice
Background Code
<span class="userBGImage"></span>
Other
Wikis you might see me on:
Call of Duty Wiki (Admin since February 2010)
Bioshock Wiki
Robot Chicken Wiki
Red Dead Wiki
Battlefield Wiki
Durarara!! Wiki
Mass Effect Wiki
And Now For A Random Userbox:
Community content is available under
CC-BY-SA
unless otherwise noted.