Mobile View Links:
Talk Page · Contributions · Blog Posts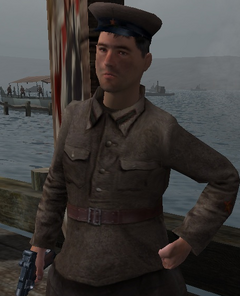 Captain Price: "The Loyalists are expecting us half a click to the north. Move out."
Gaz: "Loyalists, eh? Are those the good Russians or the bad Russians?"
Captain Price: "Well, they won't shoot us on sight, if that's what you're asking."
Gaz: "Yeah well, that's good enough for me sir."
— John Price and Gaz in Call of Duty 4: Modern Warfare.
Please see my profile on Wikia Community Central for more information about me. Otherwise, continue on to see things like my friends on this wiki and my favorite things in Call of Duty.
Friends List
Here is my list of people who I consider friends on this wiki. Note that it may be incomplete.
Signature List
Add your signature here if you want, as well as a little message if you want.
Whats up.

Higaboi21

talkhttp://i.imgur.com/KI7e8hQ.png 05:29, December 15, 2014 (UTC)
You sign mine, I sign yours. Nice signature btw!

RoachTheIntelCollector

Talk

7:39, December 15, 2014 (UTC)
Hey man

Ultimate94ninja

talk

·

contribs

12:43, December 15, 2014 (UTC)
Always late :|

Soap eksiri

 

·

 

talk

 15:29, December 25, 2014 (UTC)
Hello! :3 exacri 03:09, February 1, 2015 (UTC)
Haii

Madness

fan

34537

http://i.imgur.com/lL5xjBH.png 20:54, March 18, 2015 (UTC)
If you have any zombie related problems, you know who to call 

ZH115

Zombie Problems?

I don't have a fancy sig, but oh well. Recon Unit-52 (talk) 17:10, September 4, 2015 (UTC)
ayy http://i.imgur.com/vm7BQ.png 03:28, October 4, 2015 (UTC)
Hi! KingofallZombies (talk) 03:29, January 7, 2016 (UTC)
Boop  

Fire

Bird-

Pinkie Pie!

  04:04, January 7, 2016 (UTC)
Hi :D Orbitball is secretly Obama 04:09, October 3, 2016 (UTC)
Awards
My Fanfictions
Go to these categories on other wikis to see all the Call of Duty fanfiction stuff I made.
Favorites in the Call of Duty Universe