Home Of the Hunters. It's MY turf.
RoughHunter15: I play with this username online on my PS3. I play GTA IV (Offline) Call Of Duty: Modern Warfare 2 (Online) MLB 11: The Show (Offline) Assassin's Creed 2 (not able to play online), Red Dead Redemption (Semi-Online). Red Dead Redemption: Undead Nightmare (Offline), NBA 2K11 (Offline), SKATE 3 (Semi-Online), Call of Duty: Black Ops (Online), MLB 11: The Show (Offline), Assassin's Creed: Brotherhood (Offline), Modern Combat Domination (Online), Call of Duty Classic (Online), Deadliest Warrior (Offline), Little Big Planet (Online)
Likes and Don't Likes
Edit
Weapons : My favorite weapons on MW2 are: TAR-21 ACR AK47 Intervention UMP45 Mini Uzi and M4A1. On Black Ops they are: L96A1, M16, MP5K, PSG1, Commando, AK-47, AK74u, and Galil.
Weapons I hate: Barret 50.cal, RPD, Javalin, AUG. On Black Ops they are: M14, WA2000, MAC11, and G11's.
Characters: Polonsky, Roebuck, Cpt. MacMillan, Kamarov, Reznov, James Ramirez, John Price, John "Soap" Mactavish, Ghost, Gaz, Gary "Roach" Sanderson, Griggs, Paul Jackson, Lt. Vasquez,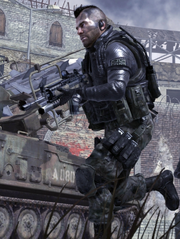 Pvt. Allen, Dunn, Ozone, and Scarecrow. Mason, Woods, Bowman, Swift, and Hudson.
People I hate: Makarov, OpFor, Khaled Al-Asad, Ultranationists (Spetsnaz), Shepherd, and The Zakhaev's ( Victor and Imran). Kratcheko, Dragovich. ZOMBIES!!!
Levels I like: One Shot,One Kill, Game Over, Hard Landing, The Hornet's Nest, The Gulag, Loose Ends, Just Like Old Times, End Game, Payback, The Defector, S.O.G, and Numbers.
Levels I hate: No fighting in the War Room, The Enemy of My Enemy, Special Ops, Takedown, Wolverines!, and Sins of the Father.
Not Important people that I like: Rook, The Driver, Nikolai (from Cod4 Modern Warfare).
Community content is available under
CC-BY-SA
unless otherwise noted.