Welcome to my user page!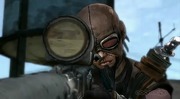 As my username suggests, I pretty much love loved SEGA. They used to create brilliant, original, fun games, courtesy of Yuji Naka. However, he left, things went downhill for me. I'm one of the people that will say Sonic on the Mega Drive/Genesis is better than any of the recent Sonic games, due to the abundance of gimmicks, crappy stories and the lack of Yuji Naka in today's games. Chu Chu Rocket was epic fun by the way, even if it probably inspired by Japanese people on acid. Sonic 4 better be good by the way, or i'm going to cry... However, I digress. I write here because I enjoy Call of Duty. Having started with Call of Duty 4: Modern Warfare on the PS3, I quickly dusted off my FPS skills, honed by Enemy Territory on the PC and others. These days, i'm tearing up Modern Warfare 2 with much fun. Oh yeah. I also write for a gaming website setup by me and a couple of friends. What is this site? Go here. Enjoy.
I also fight for an elite and recently made clan called Mad Clan of Doom (WE SO SERIOUS) setup up by me and another guy, which is basically a group of players with healthy kill/death ratios. Ranging from 1.5 to 3..2 and above, we just hate relying on noob players. The official forum is here.
Personal doohickies, i'm 18, 6ft 4, silly thin and a bit of a gamer.. Music wise, i veer towards heavy shizz but will always try anything and any new stuff once. My tastes vary from Dragonforce to Pendulum, from Plain White T's to Muse, from Mindless Self Indulgence to 30 Seconds to Mars. Strongly dislike most pop fluff, i.e Metro Station, Lady Gaga needs to sod off, anything which smacks of corporate money munching, almost all R'n'B. However, like some rap stuff, but not much.
Um, yeah, leave a message on my talk page and i'll get back to you at somepoint. Usually within the next "when i'm on the PC" moments.
Articles i've written for Keybrood (see above link "Go here.")
Edit
First Article - Honour Amongst Gamers - 20/10/2009
Second Article - Reinforcements Have Arrived (Command & Conquer Retrospective) - 27/10/2009
Third Article - Music Maestro Please (Music in Games) - 03/11/2009
Fourth Article - Past Blastification - Zero Wing (Games from the Past) - 17/11/2009
Fifth Article - Get Me a Tent (Camping) - 24/11/2009
Sixth Article - MW2 - Prestige Mode - 01/12/2009
Seventh Article - Past Blastification (Sonic) - 08/12/2009
Eighth Article - MW2 - Prestige Mode 2 - 15/12/2009
Ninth Article - At The Movies - 05/01/2010
Tenth Article - Golf & People (A look at online communities) - 12/01/2010
Eleventh Article - Past Blastification - Crash Team Racing - 19/01/2010
Twelvth Article - How to play MW2, Differently - 26/01/2010
Thirteenth Article - So, You are the last person on Earth - 02/02/2010
Fourteenth Article - Borderlands Review - 09/02/2010
Fifthteenth Article - DSi Thoughts - 23/02/2010
Sixteenth Article - 5 Tips for: MW2 - 02/03/2010
Seventeenth Article - DSi XL Hands-On - 09/03/2010
Eighteenth Article - 4 The Record (Sonic 4 thoughts) - 16/03/10
Nineteenth Article - PS3 3Years Old - Exclusives and why you should buy a PS3 - 23/03/10
Twentieth Article - The Death and Rebirth of my PS3 - 23/03/10
Twenty-First Article - My Best Gaming Moments - 30/03/10
Twenty-Second Article - A Little Fan Service, eh IW - 13/04/10
Twenty-Third Article - Annoying Stuff in Games - 20/04/10
Twenty-fourth Article - SoulSilver Mini-Review - 27/04/10
Twenty-fifth Article - Black Ops Hopes - 04/05/10
Twenty-sixth Article - Stimulus Package First Impressions - 06/05/10
Twenty-seventh Article - Past Blastification - Total Annihilation - 11/05/10
Current Goals
Edit
10th Prestige, so the Nuke Challenge is on! 10/10 Nukes - Last Nuke: Rundown - Team Deathmatch 22 Overall -GASP- Got back to back nukes in Team Deathmatch. 2 in 2 games ftw! Got my spinning nuke emblem :) All without boosting as well. It really isn't that difficult...

10th Prestige. Currently 10th Prestige Level 70 (SUCCESS) Now what? Note: Went 10th Prestige after 19days and 1 hour of gametime. All Mastery titles complete. Goal complete, I've now Mastered every single weapon! All 500 kill titles: All Primary weapons complete! Secondaries left! Unlock every main title (Those before the flags) 2 Remaining! Bounty Hunter II ??/50 Crates Pin Puller 7/25 Multi-Frag II Maintain a high place in the rankings: Currently about 3.2k in the leaderboards for score with about 11.6million score. Improve Kill/Death Ratio, Currently: 2.28 Complete all Killstreak challenges: Completed so far: Predator 1000/1000 Precision Airstrike 1000/1000 Harrier Strike 1000/1000 Pave Low 1000/1000 Chopper Gunner 1000/1000 AC-130 1000/1000 In progress:

Sentry Gun 770/1000 Attack Helicopter 460/1000 Stealth Bomber 520/1000

Unlock the spinning 10th prestige icon, legit: Working on a number of theories, but none have worked so far...

PSN - Oneiromagus
CoD Wikia Notables
Edit
The-Dreamcaster
The-Dreamcaster is a part of the Ask A Veteran program.
Experienced, PS3, MW2, Tactics
Community content is available under
CC-BY-SA
unless otherwise noted.