Hey there - I have been an active member since 12:37, July 3, 2010, a chat moderator since 18:05, May 17, 2016 and an administrator since 13:53, September 14, 2016! I've been a bureaucrat since 00:04, October 4, 2020.
Quotes — Images — Contributions — Talk — Dictionary — wikia.js — wikia.css
Now evolved because I have a broken B button, whoops.I don't think it was
Stupid intro :P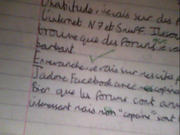 Ohai kid, it's the YellowLucario dude, if I'm not on Xbox I'm here. I've got a stupid habit of rushing people but hey, I've played my part in fairly big operations by pulling this. Always a good compromise. I like talking to the big boys (and girls) around here and I like to help them.13 year old YL, what? My Xbox Live gamertag is YellowRiolu, my favourite CoD game is CoD2, it's a shame no-one plays it anymore :( Ask me on my talk page to add me. I also run Bandipedia so I have "experience".I basically call people names and block them17 year old YL, really?
Hey, I'm YellowLucario, one of the more experienced heads on the Wiki. You may recognise me as the face who runs Bandipedia. If you don't know me, then drop me a message on my talk page and let's get to know each other! You can also say hi in the CoD Wiki Discord if you see me around.
This page has barely been revamped in the 9 years of wiki regularity, and I like it - in an ever changing Fandom landscape a semblance of familiarity is much welcomed.
As a bureaucrat here I tend to do most of my work behind the scenes and keep the wiki running from a distance. I hold a Computer Science degree so possess some relevant hard skills for me to check over any of the css and js you might wish to implement. I can't promise more than my best efforts, but will ensure your problem is closer to completion.
Anything else? Let me know.
Where do I edit?
| Wiki | Rights |
| --- | --- |
| Call of Duty Wiki | Bureaucrat |
| YellowRiolu Wikilol | Founder |
| Bandipedia | Owner |
One-liner collection. (Randomly generated)
"An Atomic Bomb? What are you trying to do? Kill everybody in the game, or destroy Alaska?"
— Jar
""Look at me, i'm Kat with mah arwsum mod rightzz! (sir) BITCHES AIN'T GOT NOTHIN ON ME""
People I think are my friends on Wiki (add yourself if you think so)
Pages I made