The new Call of Duty being released this year could be a soft reboot of the Black Ops franchise, similar to what Infinity Ward did in 2019 with Modern Warfare (at least that's how it looks).
Various leaks have come out throughout the year, with a recent one appearing randomly on the Xbox Live store that looks like an internal alpha release, called "The Red Door" - however, it doesn't provide anything concrete: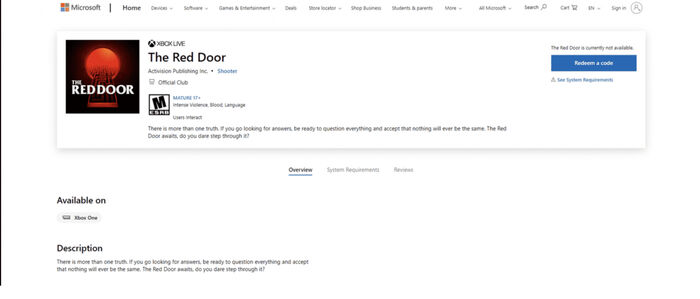 Additionally, according to leaks, the new game will be called Call of Duty: Black Ops Cold War.
Details are somewhat sparse at the moment, but through the ever consistent CharlieINTEL, we have some:
2020 game is in fact set during Cold War era
Game is "actually in a good state" with "MP maps almost done."
Campaign is "fully playable state" but not all animations are complete yet
He says there will be a new map for Warzone with 2020 game, and says he has seen an "overview of the new Warzone map."
Standard Mini-Map is back, similar to previous Call of Duty games prior to Modern Warfare
Even with standard mini-map back, there is also a compass (which was introduced in Modern Warfare)
Swimming mechanic returns, and there will be water in MP maps alongside water in the new "Warzone map."
Unlimited sprint is back.
No interact doors in regular. Mechanic stays in Warzone.
10 MP maps are apparently developed so far, more probably in works. Treyarch style maps.
One map is "very small" and a boat on the Black Sea
"Tank" – which is the map that was shown in the leaked gameplay earlier
No Specialists, but a Field Upgrade-like feature returning.
He says that you get one piece from equipment to choose from.
Scorestreaks will return.
There is NO Dead Silence in the game at this time. It's not a perk. He cannot confirm how footstep audio is right now.
150 Health (similar to Black Ops 4) but has auto-heal.
Create-A-Class is "unique." Hybrid between Pick-10 and classic. No Gunsmith.
6v6 is standard player count. There is no Gunfight mode.
There is "apparently a mode" in MP that takes place on various sections of the new Warzone map.
New Warzone map apparently takes place in Russia.
These come from a youtube with an apparent source. Make of this what you will.
At the moment, no official word has come from Activision.
---
Source: CharlieINTEL
---
Community content is available under
CC-BY-SA
unless otherwise noted.