Welcome to the wiki!

Edit
---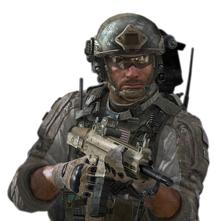 Hello and welcome to the Call of Duty Wiki! Thanks for your contributions. We hope you'll stick around to make even more!
Have you registered an account yet? If not, there are many benefits for doing so, and it's quick, simple, and free! So log in and join the community!
Here are some links that you may find helpful:
Still have questions? Feel free to ask me or contact another administrator. Sysops' names are highlighted in green and bureaucrats' names are highlighted in cyan.
We hope you enjoy editing here, and look forward to seeing you around!
Predator missiles in campaign
Edit
the transcripts do not need the note saying "last lines of Predator Missile". If it gets shot down, players will already know while they're playing. your edits, although were a good effort, were completely unnecessary. I hope you understand next time you try to edit my transcripts. Thank you.
EvErLoyaLEagLE Talk 13:57, April 16, 2013 (UTC)
Campaign Dates
Edit
Do you have a source for any of those?
Raven's wing Talk15:15, May 26, 2013 (UTC)
OK, seriously, why are you making up dates out of nowhere for pages?
Raven's wing Talk00:04, May 27, 2013 (UTC)
Don't ever touch my transcipts again:
Edit
It is never noted, nor does anyone need to know what are the "first lines" and/or "last lines" of the transcripts. Your edits are incorrect and unnecessary. Don't even THINK about editing even a single letter of my transcripts ever again.
EvErLoyaLEagLE (talk) 00:29, May 28, 2013 (UTC)
---
This is the discussion page for an anonymous user who has not created an account yet or who does not use it, identified by the user's numerical IP address.
Some IP addresses change periodically, and may be shared by several users. If you are an anonymous user, you may create an account or log in to avoid future confusion with other anonymous users. Registering also hides your IP address.
Help: Why create an account? • How to create an account • WHOIS
Community content is available under
CC-BY-SA
unless otherwise noted.