Welcome to the wiki!

Edit
---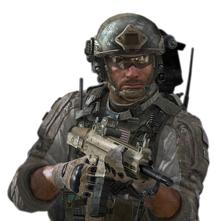 Hello and welcome to the Call of Duty Wiki! Thanks for your contributions. We hope you'll stick around to make even more!
Have you registered an account yet? If not, there are many benefits for doing so, and it's quick, simple, and free! So log in and join the community!
Here are some links that you may find helpful:
Still have questions? Feel free to ask me or contact another administrator. Sysops' names are highlighted in green and bureaucrats' names are highlighted in cyan.
We hope you enjoy editing here, and look forward to seeing you around!
Capt. Miller (talk) 16:21, October 11, 2016 (UTC)
Bad Edit
Edit
An edit you recently made to a page was undone because it was either:
Incorrect
Contained poor English
Did not conform to Wiki policies
Unnecessary
Concerned real life info, which is not generally allowed
Contained speculation, which is not generally allowed
Opinionated
Featured a formatting error
Please read the Manual of Style and the policies in order to brush up on the style and professionalism that is expected on this wiki.
You are still free to make edits; however, please make sure they are up to standards!
Thanks!

Please stop changing the status of characters. You are not changing it to anything that's correct, and there's reasons we list a character's status the way we do. Conqueror of all Zombies (talk) 15:27, October 26, 2016 (UTC)

Vandalism
Edit
Hi. Although everyone is welcome to make constructive contributions here, at least one of your recent edits, such as the one you made to "Archer", did not appear to be constructive, and has been reverted. If you continue to vandalize any pages, you will receive a block for an appropriate amount of time. As such, please refrain from doing so. Thanks.
You've been warned about editing status from K.I.A to dead. Further ignoring of warnings will result in a block.
---
This is the discussion page for an anonymous user who has not created an account yet or who does not use it, identified by the user's numerical IP address.
Some IP addresses change periodically, and may be shared by several users. If you are an anonymous user, you may create an account or log in to avoid future confusion with other anonymous users. Registering also hides your IP address.
Help: Why create an account? • How to create an account • WHOIS
Community content is available under
CC-BY-SA
unless otherwise noted.