Welcome to the wiki!

Edit
---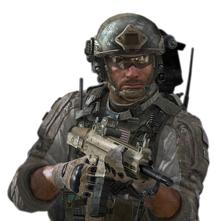 Hello As-salamu-Alaykum, and welcome to the Call of Duty Wiki! Thanks for your contributions. We hope you'll stick around to make even more!
Have you created your user page yet? It's your own personal page, and you can do anything you want with it! Your user page will also help us get to know you as an editor better.
Here are some links that you may find helpful:
Still have questions? Feel free to ask me or contact another administrator. Sysops' names are highlighted in green and bureaucrats' names are highlighted in cyan.
We hope you enjoy editing here, and look forward to seeing you around!
Crazy sam10 (talk) 15:52, December 13, 2014 (UTC)
Again, it was clearly stated that one of two bullets hitting a spot with a 0.8 multiplier will deal 99 damage, so your calculation was wrong. Read more carefully next time. 79.248.251.242 18:53, May 6, 2015 (UTC)
His calculation is 55 + (55 x 0.8), which would deliver the aforementioned 99 damage. I feel that his argument is correct, and is more important to note, as it represents how severe the damage reduction is, as if only 1 bullet in the burst is impacted by a 0.8x multiplier, it's instantly a 3 shot kill unless a headshot multiplier is in effect in that same burst. Whereas with 2 bullets hitting 0.8x multipliers, it doesn't represent the severity of this multiplier as well. Do what you like. Didikins (talk) 21:16, May 6, 2015 (UTC)
Community content is available under
CC-BY-SA
unless otherwise noted.