Welcome to the wiki!

Edit
---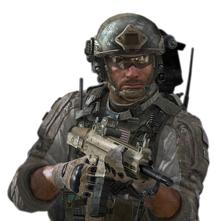 Hello Breakingmikey, and welcome to the Call of Duty Wiki! Thanks for your contributions. We hope you'll stick around to make even more!
Have you created your user page yet? It's your own personal page, and you can do anything you want with it! Your user page will also help us get to know you as an editor better.
Here are some links that you may find helpful:
Still have questions? Feel free to ask me or contact another administrator. Sysops' names are highlighted in green and bureaucrats' names are highlighted in cyan.
We hope you enjoy editing here, and look forward to seeing you around!
-- Sp3ctr3 130 Ki11er (Talk) 07:21, 2011 July 20
Real life infoEdit
Please do not add real life info. It's a policy.
Tr0529Talk

18:38, August 17, 2011 (UTC)
It was to the Vietnam peoples Army. By the way, you probably didn't know.
Tr0529Talk

Breakingmikey didn't add any RL info, seems to be a mistake here.  

  18:54, August 17, 2011 (UTC)
Community content is available under
CC-BY-SA
unless otherwise noted.