Welcome to the team

Edit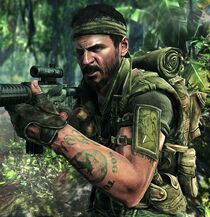 Greetings from SOG, recruit. We're happy to have you aboard at the Call of Duty Wiki, so here's a briefing on how you can help:
I look forward to having you here, my friend! It is always good to have another soldier on the front lines of editing!
Stupid bot --http://img534.imageshack.us/img534/1227/94385281.png 21:50, December 4, 2010 (UTC)
>:| --CEBot 21:54, December 4, 2010 (UTC)
Hai Azuris
Edit
If I didn't do this, I would be a liar. ZamorakO_o (talk) 03:06, December 7, 2010 (UTC)
Your Emergency Button
Edit
You should make it smaller cause it might get too tempting to press

Cpl.Bohater 01:51, December 23, 2010 (UTC)
Congrats!
Edit
I award you with this
. <3 --
Azuristalk 03:26, February 8, 2011 (UTC)
i redact it --Callofduty4 10:33, February 8, 2011 (UTC)
Community content is available under
CC-BY-SA
unless otherwise noted.