It's the F.N.G., sir.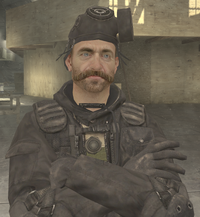 Welcome to the Call of Duty Wiki, recruit! There's a lot to do around here, so here's the briefing on how you can help:
Recent changes is a great first stop, because you can see what other people are editing right this minute, and where you can help.
Read our policies, if you haven't already. You'll be informed on the do's and do not's, as well as some guidelines when creating new articles.
The Sandbox is a great place to test things out if this is your first time editing wikis. It is advisable to know what is commonplace on the wiki, such as templates and categories, and how to use them.
Questions? You can ask at the Help desk, the "discussion" page associated with each article, or browse through the help directory. Feel free as well to ask on my talk page; we take care of our friends, recruit!
Have feedback? The War Room is used to discuss changes to wiki or other community related issues. You'll need 50 main space edits to vote, recruit, but your opinion is still appreciated!
I hope you enjoy editing on the wiki recruit! This is Bravo Six, out.
-- Talk 22:56, May 22, 2010 (UTC)
Your "COLT" Group
You are not allowed to make a page in the "Usergroup" namespace until it has passed a community vote. I have moved the page to User:Darkraider09/COLT. In the future, please read policies before you make pages like that. Thanks! 404 Error File Not Found Please Try Again 19:13, May 27, 2010 (UTC)
ok sorry im a bit new to wiki editing Darkraider09 19:21, May 27, 2010 (UTC)
Yes, I guessed that. No matter. By the way, you should respond to messages left on your talk page on the other persona talk page. 404 Error File Not Found Please Try Again 19:43, May 27, 2010 (UTC)
Steam
Sure. My profile name is masterjoejoe.

Happy Boy T M E 19:25, July 12, 2010 (UTC)
Official Fan-Fiction Wiki!
Hello, Callofduty4 has recently made the official Call of Duty Wiki Fan-Fiction Wiki! If you are interested, please join at: The Official Wiki! It is recommended to move any current Fan-Fictions there, if you have any questions, please ask Dolten, CodExpert, or the creator, Callofduty4. Keep in mind, the Wiki is not complete yet, although we are working on it as fast as we can, it should be done with-in the week. Have fun with it!
Dolten

Lets Talk 01:45, August 8, 2010 (UTC)
Re:
You can make a redirect for it. Just create a page called Template:DarkSig or something like that and put #REDIRECT [[Template:DarkSig]]   Hax 217    talk-page  19:26, August 8, 2010 (UTC)
Re:IRC
Try connecting from webchat. --<choose><option>azuris_</option><option>
Azuristalk</option> 00:26, September 4, 2010 (UTC)
Your signature
I edited it. You forgot to end a <small> tag, and it was messing up the formatting on CodExpert's talk page. Cpl. Dunn(Talk) 22:12, September 4, 2010 (UTC)
Signature request
I can't, man. I've been backlogged with too much homework and tests lately. If you want a sig, i would go ask CodExpert. Sactage DILLAGAF? Editcount Contribs Want a sig? 00:52, September 17, 2010 (UTC)
RE: Game Models
Irrlicht, Ogre3d, and Panda3d are probably the most popular free 3d game engines. Give 'em a look. Imrlybord7 16:23, September 20, 2010 (UTC)
Time for a KODAK moment.

You'll never live this down... xD

The Smuff 17:48, September 30, 2010 (UTC)
RE:
Go to FAMAS, check out it's info box and look at the "Cost". There is a space between the price and icon, the template is kind of invalid and I don't know how to make one, so I did it differently, but it still looks good with the space between. Also "repeating" the links is okay, only if you don't repeat them in the same sentences, etc.

We don't want to mess up the history in the articles, this is kinda like Wikipedia of Call of Duty, not a playground. Also, I don't want to argue about this. Snufking 18:43, October 15, 2010 (UTC)
Lulz
That was a bit of fun. I wasnt the only one breaking the rules you know. If I had really meant to insult nelo i would have said something like, "Nelo is a worthless scumbag c*nt" (not saying he is) A Lonely Nomad 20:11, October 25, 2010 (UTC)
The pic
The picture is from this link thats legit: http://www.washingtonpost.com/wp-dyn/content/article/2010/10/25/AR2010102503418.html Omnicube1 02:01, October 26, 2010 (UTC)
Why did you delete the picture i added to the marathon pro in blackops ????
Killcam
Well acualy it does look here

thanks for your time --Super2k 20:42, November 23, 2010 (UTC)
How does this article fit under any of the six points in COD:NOTABILITY? --Super2k 20:49, November 23, 2010 (UTC)
Makes sence you've changed my mind Super2k 20:57, November 23, 2010 (UTC)
IRC
Community content is available under
CC-BY-SA
unless otherwise noted.