Welcome to the wiki!

Edit
---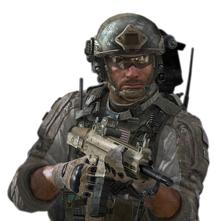 Hello Dbbolton, and welcome to the Call of Duty Wiki! Thanks for your contributions. We hope you'll stick around to make even more!
Have you created your user page yet? It's your own personal page, and you can do anything you want with it! Your user page will also help us get to know you as an editor better.
Here are some links that you may find helpful:
Still have questions? Feel free to ask me or contact another administrator. Sysops' names are highlighted in green and bureaucrats' names are highlighted in cyan.
We hope you enjoy editing here, and look forward to seeing you around!
-- Raven's wing (Talk) 19:19, November 12, 2011
I'm pretty sure we shouldn't have IRL info, so I changed it. DarkMetroid567 01:57, January 12, 2012 (UTC)
Ok. I made a new edit that just says the phrase that is on the gun, since that is in the game. Dbbolton 01:39, January 16, 2012 (UTC)
Not mentioned in game = not mentioned in article.
01:57, January 12, 2012 (UTC)
Then what about the whole section of references to pop culture listed in the Modern_warfare_2_titles page? Dbbolton 02:30, February 7, 2012 (UTC)

Its an exception, plain and simple. 02:35, February 7, 2012 (UTC)

So that is absolutely the only page that allows the inclusion of IRL content? If not, then how am I supposed to know whether a page is exceptional or not? Dbbolton 02:39, February 7, 2012 (UTC)
Image Naming
Edit
when naming images, please put the initals of the game the photo is suppose to be of at the end of the file name (example: [File Name]_[Game Initials].[File Extension]). thank you.
RisingSun2020
(RisingSun's Talk Page ☀ Blog Posts ☀ Contributions) 21:09, September 9, 2015 (UTC)
Community content is available under
CC-BY-SA
unless otherwise noted.