Welcome to the wiki!

Edit
---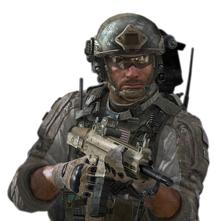 Hello Dmithri, and welcome to the Call of Duty Wiki! Thanks for your contributions. We hope you'll stick around to make even more!
Have you created your user page yet? It's your own personal page, and you can do anything you want with it! Your user page will also help us get to know you as an editor better.
Here are some links that you may find helpful:
Still have questions? Feel free to ask me or contact another administrator. Sysops' names are highlighted in green and bureaucrats' names are highlighted in cyan.
We hope you enjoy editing here, and look forward to seeing you around!
-- Carbonite 0 (Talk) 04:20, September 11, 2011
I really don't think France would be able to have its own article due to COD:NOTABLE and Forum:Deleting_Country_articles. Overall it's not really mentioned or have any real significance. Plus from what I can tell, most (if not all) of the MW3 missions take place in Paris which even though it is in France, doesn't provide notability to France as a stand alone article. Carbonite 0 03:04, September 27, 2011 (UTC)
Hey, Dmithri. I just browsed onto your profile and saw that you like CoD4 and MW2 better than BO. I totally agree with you. The only thing good about BO is zombies. Oh yeah I also saw that you are a rusher, just like me.. Commando, Lightweight, Marathon.. heh..
T4DZ talk

03:07, September 27, 2011 (UTC)
"Call of duty is the best"
Edit
I'm not sure if you're oriented or not with the wiki's policies, but you can't create pages like that, OK?

Metlman Talk

02:33, October 9, 2011 (UTC)
I see.
Yeah sure go for it. Add your details where they apply. TheDocRichtofen (Talk) 08:39, October 23, 2011 (UTC)
I think you'll find that "PlayStation Network" is spelt like that, not like the edit you've just done on the Mule Kick page. MarlboroNS 11:51, October 23, 2011 (UTC)
Re:Vandalism
Edit
Ah, no worries. It was more of a force-of-habit thing... you know, when you see vandalism the first thing you think is to revert it. Well, glad I could help.

07:09, November 3, 2011 (UTC)
It'll probably be myself or User:Sactage:Sactage, the other leader hosting. Last time we did this we did some private matches (TDM, FFA, and Dom) and some Ground War towards the end but I (assuming I host) go by what the group normally wants which tends to be TDM, DOM and GW. Carb 0Stop Censorship 18:04, January 5, 2012 (UTC)
ThundaCloudz
Edit
Made an Account
ThundaCloudz 01:23, January 26, 2012 (UTC)
Community content is available under
CC-BY-SA
unless otherwise noted.