Welcome to the wiki!

Edit
---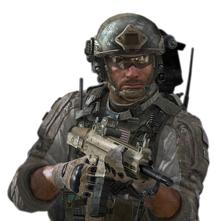 Hello Dr. Porter, and welcome to the Call of Duty Wiki! Thanks for your contributions. We hope you'll stick around to make even more!
Have you created your user page yet? It's your own personal page, and you can do anything you want with it! Your user page will also help us get to know you as an editor better.
Here are some links that you may find helpful:

Still have questions? Feel free to ask me or contact another administrator. Sysops' names are highlighted in green and bureaucrats' names are highlighted in cyan.
We hope you enjoy editing here, and look forward to seeing you around!
Crazy sam10 (talk) 23:32, March 1, 2014 (UTC)
Vandalism
Edit
Welcome to the Call of Duty Wiki. Although everyone is welcome to make constructive contributions here, at least one of your recent edits, such as the one you made to "Task Force 141", did not appear to be constructive, and has been reverted. Vandalism includes, but is not limited to:
Removing information from articles
Spamming articles
Adding inappropriate/rude/offensive comments/pictures to articles
Creating spam pages
Uploading offensive/rude images
Adding incorrect information to articles multiple times
Undoing perfectly good edits
Renaming pages to incorrect/inappropriate names

Please use the sandbox for any non-mischievous test edits you would like to make, and it is strongly recommended to read the policy page to learn more about contributing constructively to this wiki and knowing what is and what is not allowed. If you continue vandalizing, you will be subject to a block. Remember that all vandalism can be undone within a few seconds. Thank you.
RE:Vandalism
Edit
You
removed half the page
.
I don't understand how you can accidentally remove half the page. Also, if you receive a large number of warnings, you may receive a block.

I still don't understand how you managed to remove half a page of content by trying to add about 4 words. You would be able to see in Recent Changes that you had removed more content than added it. Also you could have have used the "Preview" option to check your edit before publishing it.

Excuse me? When did I say I didn't believe you? I merely stated how I was unsure how you were able to perform the edit, and gave you some help in case it happened again, and to prevent it happening again. But if you want to act sarcastic towards me that's your own provocative.
Recent image
Edit
Hi. Your recent image "
Dualmagnumacog.jpg
" was deleted as it did not conform to our
image policy
. It was both badly named and incorrectly licensed. When uploading in the future please ensure to follow the naming and licensing rules as seen on the policy page, failure to do so may lead up to a block if enough warnings are given. If you need any more help on image uploading feel free to ask myself, anyone on the
Custodian team
or
Sysop team
. Thanks.
Image Naming
Edit
hi, when naming images, please put the game initials at the end of the file name, before the file extension, instead of at the front of the name (example: [File Name]_[Game Initials].[File Extension]). thank you.
RisingSun2020
(RisingSun's Talk Page ☀ Blog Posts ☀ Contributions) 23:58, August 23, 2015 (UTC)
Got it, thanks. -- Dr. Porter (talk) 00:07, August 24, 2015 (UTC)

no problem.

RisingSun2020

(RisingSun's

Talk Page

☀

Blog Posts

☀

Contributions

) 00:08, August 24, 2015 (UTC)
Edit warring
Edit
Please be aware the word you were changing already had a note attached to it stating that the spelling was taken verbatim from the game, and is noted as such on the
Template's
usage section. Please read notes before you begin editing, especially before you start edit wars.
I am well aware. My argument was that it shouldn't matter that the game's subtitles spelled it incorrectly, it should only matter what Price said. And don't tell me I started the edit war when I made clear to refer to the talk page to prevent such a thing. -- Dr. Porter (Talk|Contribs) 23:51, December 2, 2016 (UTC)
The Signature
Edit
I use the source editor just as I am doing currently with this edit, yet for some glitchy reason half the time the sigs don't work
It's not that harbouring of an issue but it is pretty annoying if I have to make a forum or, as recently, nominate a page for Featured Article
It's weird but I can't change it too much
Prof. Sugarcube (talk) 06:48, April 8, 2017 (UTC)
Community content is available under
CC-BY-SA
unless otherwise noted.