Welcome to the team

Edit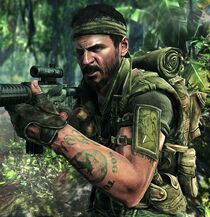 Greetings from SOG, recruit. We're happy to have you aboard at the Call of Duty Wiki, so here's a briefing on how you can help:
I look forward to having you here, my friend! It is always good to have another soldier on the front lines of editing!
I like the images you've been uploading; would you mind getting the Create-a-Class pictures of all the weapons, and adding them to User:StB/Images? I understand if you can't, it would likely take quite a while, but thank you for considering. -

15:27, November 13, 2010 (UTC)
Hi there, great work so far with the images. Please make sure to license them properly though, it's important. Thanks and keep the great images coming! --Callofduty4 16:44, November 13, 2010 (UTC)
Okay, it's fine. I can license them for you. --Callofduty4 17:18, November 13, 2010 (UTC)
Bad Edit
Edit

An edit you recently made to a page, "China Lake

", was undone because it was either:
Incorrect
Contained poor English
Did not conform to Wiki policies
Unnecessary
Concerned real life info, which is not generally allowed
Contained speculation, which is not generally allowed
Opinionated
Featured a formatting error
Please read the Manual of Style and the policies in order to brush up on the style and professionalism that is expected on this wiki.
You are still free to make edits; however, please make sure they are up to standards!
Thanks!

Nice Job man
Edit
Six days and already nearly 300 edits I must applaud. Also I love your pictutes they are good very good. :)

Sniperteam82308

20:32, November 16, 2010 (UTC)
Excellent work
Edit
Thanks for making these contributions. I have a request - I need hi-res images of the unlockable intel from the levels Operation 40, Vorkuta, Project Nova, Victor Charlie, Crash Site, WMD, Payback, Rebirth and Revelations. As it is, I can't read them off my TV screen. No matter how close I zoom, the devs just simply made it too small to be 100% legible. Some of the unlockable intel that you posted is much, much clearer, and thank you for it, but I'd like to see the rest of it.ChrisMathers3501 08:18, November 17, 2010 (UTC)
user of the month
Edit
Hi, I've nominated you for User of the Month. Your image contributions and edits to articles are absolutely outstanding, keep up the good work and good luck! --Callofduty4 14:00, November 20, 2010 (UTC)
I moved the page. It's at GSN-19 now. --Callofduty4 14:28, November 20, 2010 (UTC)
Congratulations, soldier.
Edit
Due to your impeccable behavior and/or contributions, you have been awarded the Medal of Editing. You are a hard working editor, and you make the wiki proud. We applaud you for obtaining the title of User of the Month, and we encourage further editing from you.
Keep up the good work!
Congratulations, you're user of the month. --Callofduty4 18:04, December 1, 2010 (UTC)
Well done!
Edit
Congrats at becoming User of the Month! I think its great that it went to a new contributor with such amazing contributions as you. The images you uploaded are top quality, and is the sort of thing we needed. Well done, elmo's

ramblings 17:37, December 3, 2010 (UTC)
I think you set a record
Edit
I may be wrong on this but, i think you set the record for User with the least time on this wiki to earn User of the Month Blinzy[45] 03:31, December 4, 2010 (UTC)
Congrats
Edit
Keep up the good work and hope to see lots more from you!

Talk 03:42, December 4, 2010 (UTC)
Regarding your edits
Edit
Please do not use impersonal "you"s. Use "The player" instead.
Edit boosting
Edit
Please ensure you check your edits before saving them. You have performed numerous edits, most of which are minor ones fixing your own errors.
Community content is available under
CC-BY-SA
unless otherwise noted.