Welcome to the wiki!

Edit
---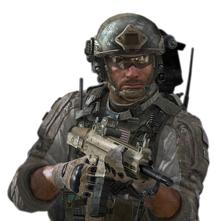 Hello Flightmare, and welcome to the Call of Duty Wiki! Thanks for your contributions. We hope you'll stick around to make even more!
Have you created your user page yet? It's your own personal page, and you can do anything you want with it! Your user page will also help us get to know you as an editor better.
Here are some links that you may find helpful:
Still have questions? Feel free to ask me or contact another administrator. Sysops' names are highlighted in green and bureaucrats' names are highlighted in cyan.
We hope you enjoy editing here, and look forward to seeing you around!
-- Shotrocket6 (Talk) 01:04, November 21, 2011
Question For You
Edit
Doing this on a different wiki, but did you gove permission for a bot to be created last montb? Timeoin•Say G'Day•View my work 05:31, April 29, 2015 (UTC)
Yesterday was the first time I was asked. Since yesterday is within last month, I did technically speaking. But all the discussions that happened were prior to that. — Flightmare (talk) 17:16, April 29, 2015 (UTC)
I should have specified clearer. Apologies. I meant back in March, when the bot was added to the wiki as a user. (Also, no, I generally dont stalk your page. I probably SHOULD). Anyways - just checking as the other admins didnt either. Timeoin•Say G'Day•View my work 23:16, April 29, 2015 (UTC)

Just letting you know, too, that block was done after speaking with Wikia and getting their advice. Pleasr dont unban - its important to at least warn him for flouting our rules repeatedly :) Timeoin•Say G'Day•View my work 21:12, April 30, 2015 (UTC)
Community content is available under
CC-BY-SA
unless otherwise noted.