Welcome to the wiki!

Edit
---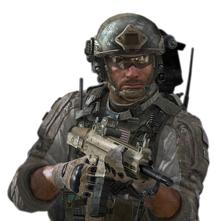 Hello HERSHEYnutter, and welcome to the Call of Duty Wiki! Thanks for your contributions. We hope you'll stick around to make even more!
Have you created your user page yet? It's your own personal page, and you can do anything you want with it! Your user page will also help us get to know you as an editor better.
Here are some links that you may find helpful:
Still have questions? Feel free to ask me or contact another administrator. Sysops' names are highlighted in green and bureaucrats' names are highlighted in cyan.
We hope you enjoy editing here, and look forward to seeing you around!
Capt. Miller (talk) 14:40, September 22, 2016 (UTC)
High Maintenance
Edit
You need to provide a source. Just saying that you've done it is not a valid source. Please stop changing the information unless you can get a valid source. Edit warring is a waste of time and good for no one. Conqueror of all Zombies (talk) 16:54, October 6, 2016 (UTC)
You're right this is a waste of time. That's why this whole site is full of lies and bullshit, because no one bothers to check the facts. HERSHEYnutter (talk) 22:34, October 6, 2016 (UTC)
Don't worry about it, you're cool. I messaged CoaZ about this. -- laagone (

talk

)  22:58, October 6, 2016 (UTC)
Because we also expect the users to at least provide a little proof along with it. If we took everything at face value, Everything would be even worse. Laagone has provided a bit of proof by also saying that she's also done it without having the whole thing reverted. It might of been an undocumented change that we didn't pick up earlier.

Twig

(Talk)

02:13, October 7, 2016 (UTC)
Noted, at least I'm not going crazyHERSHEYnutter (talk) 02:48, October 7, 2016 (UTC)
BTW, if you want to indent your text (as it helps others know who you're responding to and looks cleaner), just type the appropriate number of ':' in front of your text (i.e., if you'd respond to this, you'd type it twice). Conqueror of all Zombies (talk) 03:07, October 7, 2016 (UTC)
Please be aware as per
this forum
, "Gersh" is the correct spelling. Any attempts to change this will be viewed as vandalism. Thanks.
Winter's Howl
Edit
In response to your question to CoaZ, here's a proof of the weapon appearing in the Black Ops version of Verrückt.
Ultimate94ninja talk · contribs 10:56, January 4, 2018 (UTC)
Community content is available under
CC-BY-SA
unless otherwise noted.