Welcome to the wiki!

Edit
---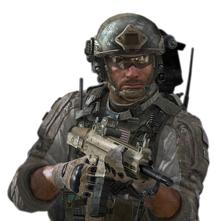 Hello Hunter2013, and welcome to the Call of Duty Wiki! Thanks for your contributions. We hope you'll stick around to make even more!
Have you created your user page yet? It's your own personal page, and you can do anything you want with it! Your user page will also help us get to know you as an editor better.
Here are some links that you may find helpful:
Still have questions? Feel free to ask me or contact another administrator. Sysops' names are highlighted in green and bureaucrats' names are highlighted in cyan.
We hope you enjoy editing here, and look forward to seeing you around!
Hello
Your recent messages
Edit
Sorry to say this pal, but chat is dead as of now. Like, deader than the dinosaurs. Servers are down apparently, so nobody can't go into chat atm. k that was all bye.-Diegox223 Zed's dead, baby.

03:43, February 21, 2014 (UTC)
They're simply not very notable points.

AugFC Talk Page 09:03, February 25, 2014 (UTC)
Recent image
Edit
Hi. Your recent image "
Cod22.jpg
" was deleted as it did not conform to our
image policy
. It was both badly named and incorrectly licensed. When uploading in the future please ensure to follow the naming and licensing rules as seen on the policy page, failure to do so may lead up to a block if enough warnings are given. If you need any more help on image uploading feel free to ask myself, anyone on the
Custodian team
or
Sysop team
. Thanks.
Are you referring to the navigation box at the top with the MW3 weapons? I made a template for that. I think I its a modified combination of Carbonite's and Bohater's navigation boxes.
Legos-Rule-15 Talk 00:48, May 3, 2014 (UTC)
Oh sorry, really misread what you were asking. There is a template for that, Template:Infobox/soldier/user. If you want, I could modify your page so it uses the template. Again, sorry about me misreading that so badly.

Legos-Rule-15

Talk

01:57, May 22, 2014 (UTC)
Recent Edit
Edit
Hey Hunter,
Just letting you know that an edit you did was wasn't really correct. The infobox we use for characters is infobox/soldier, and the one you replaced it with wasn't the one we use.
On another note, I saw that Legos sent you a message about helping you put a better infobox on your page, would you like me to do it right now?
Thanks.

 Capt. Miller · talk 10:21, May 23, 2014 (UTC)
Yeah I do, do you come from Australia?  

Capt. Miller

 

·

 

talk

 10:28, May 23, 2014 (UTC)
I've added the infobox to your page, as well as a picture of Woods in the infobox.  

Capt. Miller

 

·

 

talk

 10:45, May 23, 2014 (UTC)
Definitely Not Windmills
Edit
I Love Windmills!, Do You Love Windmills?
180.95.37.164 23:04, May 27, 2014 (UTC)
Alternate accounts
Edit
Users are only permitted to have one account. Please do not create alternate accounts. If you want to make a new account, to replace your current one, then tell a user beforehand. Secondly, using your own IP to spam yourself and other pages is just an annoyance, and may lead to your main account being blocked due to the IP being blocked. Thanks.
Just to let you know Crazy Sam that stuff about Windmills wasn't me. it was this guy i know who was doing it.Hunter2013 (talk) 06:48, May 28, 2014 (UTC)
And i think i know his new accout but i cannot be certain.Hunter2013 (talk) 06:51, May 28, 2014 (UTC)
Also i was reading on a talk page for an anomous user and saw this (this will back my case) 'Some IP addresses change periodically, and may be shared by several users.Hunter2013 (talk) 07:19, May 28, 2014 (UTC)
Saying that "it was this guy i know who was doing it" hardly flies. It's linked to your IP address, so it was on your computer. You may want to read the point made on COD:NST regarding other users using your PC.

Furthermore, after performing some more checks, your current IP is blacklisted as a proxy. Which makes it hard to believe these alternate accounts are in any way innocent.
May I add into this, The IP that we use is a public network that 500+ people use every day, and I'm the other person who Hunter2013 is talking about, I am a different user and I know him personaly, he's a friend of mine, if anything bad is to happen make me take the blame.
Thanks Tripplej45 (talk) 06:55, May 29, 2014 (UTC)
Well, if you browse over your profile picture, it should say something like "Edit Profile Picture" in the corner. A menu should show up. After you select it, all you have to do is either select a profile picture from a slider near the bottom of the menu, or select an image from your computer, this itself being next to your original profile picture, labelled as "Select picture from computer" or something like that.

 Capt. Miller · talk 11:11, June 1, 2014 (UTC)
I mean the infobox.Hunter2013 (talk) 23:40, June 1, 2014 (UTC)
Would you like me to do it for you? Its kind of hard.  

Capt. Miller

 

·

 

talk

 10:35, June 2, 2014 (UTC)
i would like that it will help me alot thanks.Hunter2013 (talk) 00:41, June 6, 2014 (UTC)
Herro, When you gonna be on?
Tripplej45 (talk) 01:55, June 2, 2014 (UTC)
unacceptable behavior
, you have been blocked for 3 days for abusing multiple accounts. You are welcome to come back and edit sensibly after the block is up, however it is very strongly advised that you read and review
our policies
thoroughly before you start to edit again. If you believe your block is unfair you can leave a message on this page and an administrator will consider it.
Any more unacceptable behavior and another block will be issued. Thank you.
Crazy Sam why am I blocked again, i havn't touch my account in weeks. this is the first time i have.Hunter2013 (talk) 03:06, June 27, 2014 (UTC)
I know but when i'm in my account next to my name (BLOCKED) is there.Hunter2013 (talk) 04:48, June 27, 2014 (UTC)
Your account is linked to so many proxies, some of which have avoided blocks, I have stronger reason to believe that account is a sock puppet, not another person.
the account Triplej45 isn't mine, i just have this one.Hunter2013 (talk) 12:35, July 9, 2014 (UTC)
That's not really much evidence either way. But your account has logged in though so many proxies, all of which are blacklisted, we can't really confirm that this other account is all that innocent. I apologise if the account s in fact your friend, but so far, despite still having access to edit his own talk page, they've not said anything on the matter, only you have.
the reason why they haven posted a message about there block is they cannot, they told me that they can't.Hunter2013 (talk) 00:56, July 27, 2014 (UTC)
RE: Blog Patroller
Edit
Yes, with Blog Patrol rights, you are able to delete comments. You are also able to edit blogs, although this should be used rarely. Hope that helps.
Legos-Rule-15 Talk 05:07, September 2, 2014 (UTC)
yeah i was wondering if you could delete some commints from one of my blogs.Hunter2013 (talk) 00:55, September 3, 2014 (UTC)
Well, actually, since your blog is dead, I'm not supposed to delete any comments that are currently on it, unless the blog is bumped... which is what you just did. Sorry, but you can't really do that, trying to keep a blog active once it's gone dead.

Legos-Rule-15

Talk

01:51, September 4, 2014 (UTC)
And that might not of translated over to the video game. Twig (Talk)
04:14, July 30, 2015 (UTC)
yeah but there is other evevdence in the game play that supports it as well. Hunter2013 (talk) 04:23, July 30, 2015 (UTC)
i think its mention in the triva section.Hunter2013 (talk) 04:27, July 30, 2015 (UTC)
Community content is available under
CC-BY-SA
unless otherwise noted.